Milwaukee Brewers Prospects: #12 Marcos Diplan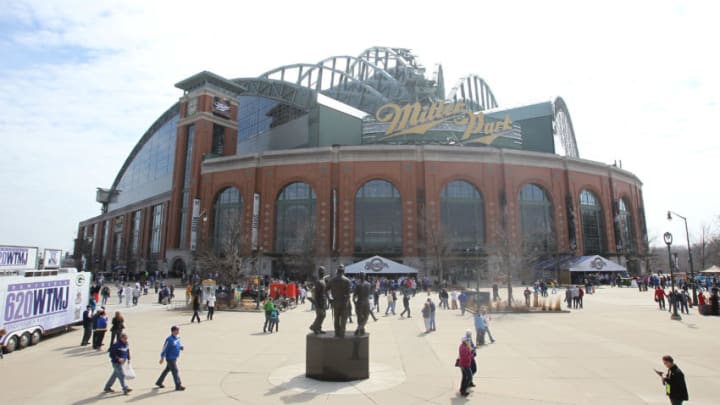 MILWAUKEE, WI - APRIL 06: General view as fans arrive to Miller Park before the start of Opening Day between the Colorado Rockies and the Milwaukee Brewers on April 06, 2015 in Milwaukee, Wisconsin. (Photo by Mike McGinnis/Getty Images) /
The first of two Milwaukee Brewers prospects to start 2018 ranked where the ended 2017 is Marcos Diplan.
Despite a poor performance last season, Diplan is showing enough potential to stay put in the 12th ranked position. The 21 year old signed with Texas as the top international pitching prospect back in 2013. Not long after that, he became part of the package the Milwaukee Brewers received for Yovani Gallardo.
Player Profile
Though he is not as big as some of the other hurlers on the Brewers top prospect list, his arm is just as good. Diplan has a 60 grade fastball that will run up to the plate as fast as 96 MPH. He also features a slider of the same grade that creates swings and misses. Though his changeup is behind the other two pitches, the young righty flashes good feel for all three pitches.
Most of the issues that arose last season were control issues. That is what caused Diplan to take a step back in his performance. But because of the movement and the control he did show, it did not hurt his stock. If Diplan can find the consistency in his delivery, his consistency should return as well.
Performance
Diplan earned Mid-Season All-Star selections in both 2015 and 2016. What killed him in 2017, though, was his walk numbers. In a total of 113.1 innings in 2016, Diplan showed a 129:50 K:BB ratio. That statistic for the 2017 season in 125.2 innings was 119:71. It was not just a walk increase, when he was throwing strikes, he found too much of the plate and gave up a ton of hits.
The Marcos Diplan who threw for a sub two ERA in the first 17 appearances of the 2016 is the one the Milwaukee Brewers are hoping to get. He clearly has all the tools, and he can use them. It is just a matter of getting the tools to show through on a consistent basis.
How Does He Project?
MLB Pipeline projects Diplan to be a three or a four pitcher in the rotation in the future. With his command on, he might exceed that a little bit, but a lot will depend on his control. When he is not consistent in his delivery, he will be a stretch five starter.
Next: Prospects: #13 Adrian Houser
This is one of the rare times that I agree with MLB Pipeline about the future of a player. Usually, I would have my own idea, but Diplan's flashes of command with his three pitch mix makes it seem as though his future is in the rotation somewhere. Once he makes his mechanics a little more repeatable, there should be no issues. But a fastball/slider combination would not be terrible in the Milwaukee Brewers bullpen.