Milwaukee Brewers: Does Manny Machado Make Sense To Acquire?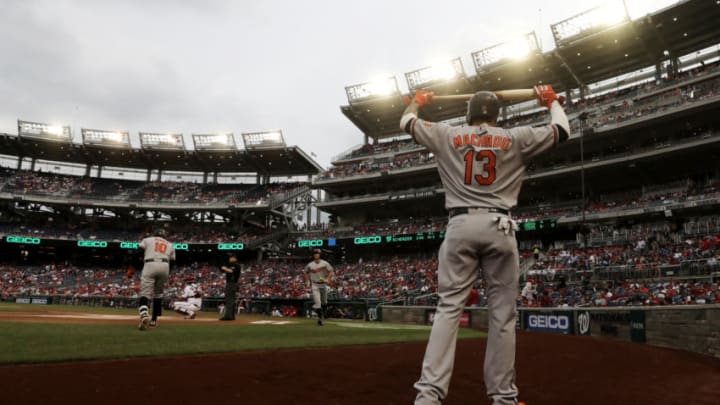 WASHINGTON, DC - JUNE 21: Adam Jones #10 of the Baltimore Orioles bats as Manny Machado #13 waits on deck in the first inning against the Washington Nationals at Nationals Park on June 21, 2018 in Washington, DC. (Photo by Rob Carr/Getty Images) /
The Milwaukee Brewers haven't been able to get much production out of the shortstop position this year. Could they look into acquiring Manny Machado from the Baltimore Orioles?
Manny Machado is going to be the most sought after name on the trade market this July. Several teams will be after him and the Milwaukee Brewers may be one of them. Jon Heyman recently listed the Brewers as candidates for Machado and put the Crew at 30-1 odds to land the superstar shortstop.
While the Brewers may be long shots to land Machado, the need and potential fit is there. But Heyman also states that starting pitching should be the primary focus for David Stearns this summer.
A Potential Fit
The Brewers need to get some offensive production out of the shortstop position. Orlando Arcia is hitting .203 on the season. Eric Sogard hasn't been able to get anything going offensively. Tyler Saladino is still hurt and is no guarantee to continue the level of success he was at prior to his injury.
Machado is hitting .304 with 18 homers and a .925 OPS this season. He's been on fire at the plate and would be an excellent addition to this lineup. Can you imagine a lineup with Lorenzo Cain, Christian Yelich, Machado, Travis Shaw, Jesus Aguilar, and Eric Thames? It would be unstoppable.
And you lose nothing on defense either. Arcia is a great defensive player, but so is Machado. With Machado, you get the great defense and a productive bat.
By acquiring Machado, this will allow the Milwaukee Brewers to option Orlando Arcia back to Triple-A for the last two months of the season where he can work on his swing and fix the issues that he's dealing with. Since Machado is a rental, he's not a long term roadblock for Arcia.
The High Cost
Even for a rental, the Orioles are going to have a very high price tag on Machado and it will be difficult to get him. The Milwaukee Brewers should not go all out for Machado and do whatever it takes to get him. Their championship window is just beginning to open, there's no reason to go all in on a rental piece, albeit a great one.
If a trade requires Keston Hiura or Corbin Burnes, the Brewers should hang up the phone and move on. It's simply not worth it.
David Stearns' MO has been to acquire players with long term team control. We saw that with Yelich and we saw that with Cain. Machado will be a free agent at the end of the season, and there is a 0.0% chance that Machado would sign with Milwaukee. Stearns won't sell the farm for a rental.
But if the market that the Orioles are hoping for never materializes and other teams refuse to pay the high price, it could drop enough to where Stearns might feel comfortable getting him. Again, this is a highly unlikely situation.
Adding a player like Machado would be nice, obviously. But the cost it would take to acquire him and watch him leave in free agency is just too much.
Next: Could there be a deadline deal with the Padres?
The Milwaukee Brewers still have other places to look for upgrades this July. There won't be any shortage of rumors coming out about this team's potential targets as the trade season heats up.