Milwaukee Brewers: Will we see pitcher Zack Brown in 2019?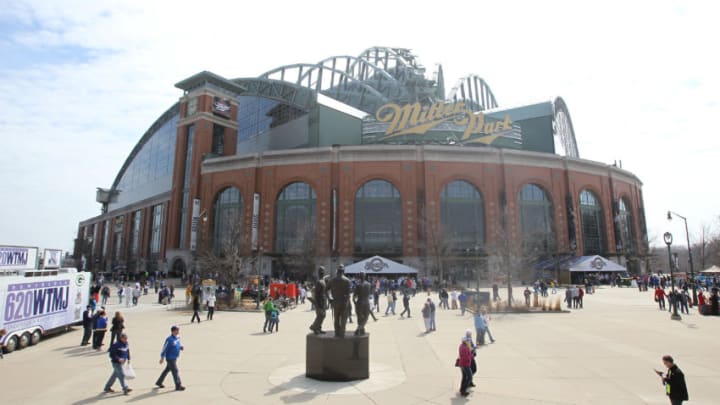 MILWAUKEE, WI - APRIL 06: General view as fans arrive to Miller Park before the start of Opening Day between the Colorado Rockies and the Milwaukee Brewers on April 06, 2015 in Milwaukee, Wisconsin. (Photo by Mike McGinnis/Getty Images) /
As a fifth round pick for the Milwaukee Brewers in 2016, pitcher Zack Brown has notably improved each year he's been in the minor league system, which could mean he will make his MLB debut as soon as the 2019 season.
The 2018 season for right-hander Zack Brown in Double-A Biloxi was an impressive one to say the least. Brown really made a name for himself with the Milwaukee Brewers minor league system due to his performance on the mound.
The Brewers will have a deep slate of pitchers at the big league level heading into the 2019 season but have shown in the past that they are willing to bring up a young arm if they feel he will benefit the team.
Based on how his career has gone thus far, it's a real possibility that next season, Brown could be that player.
Brown's season in Biloxi
Zack Brown has had a fairly quick rise through the Milwaukee Brewers minor league system as he began 2017 in Single-A Wisconsin and was moved up towards the end of the season the Advanced-A Carolina.
Brown spent all of 2018 in Biloxi where to put it simply, he dominated. In 21 starts that totaled 125 2/3 innings pitched, Brown posted a 9-1 record, with a 2.44 ERA, a WHIP of 1.04 and struck out a whopping 116 batters.
His efforts did not go unnoticed as Brown was named the Milwaukee Brewers 2018 Minor League Pitcher of the Year and finished ranked as Milwaukee's sixth best prospect in the entire organization.
Since he was drafted, Brown has gotten better with each passing season and if that trend persists, he will continue to be a force moving forward.
When will we see Brown in Milwaukee?
After conquering Double-A ball in Biloxi, it is a safe bet that we will see Brown begin the 2019 season in Triple-A San Antonio. However, I don't believe he will spend the entire year there.
In the past, GM David Stearns and manager Craig Counsell have shown us that they will bring up a top-flight starting pitcher from Triple-A and put him in the Milwaukee Brewers bullpen to make an earlier impact and to help him gain experience at the big league level.
It was done in 2017 with Josh Hader, who eventually stayed in the bullpen and it was done in 2018 with Corbin Burnes, who looks to be headed to the starting rotation in 2019.
Similarly to Hader and Burnes, Brown could make his debut next season out of the bullpen in the role of long reliever.
Brown's pitching style is one that resembles Burnes more than Hader. He is not going to overpower hitters but he can locate his fastball very well, and has a great breaking ball to accompany it. As we saw from Burnes this season, that combo of pitches can be impossible for any batter to square up.
Over the course of a grueling Major League season, there is no such thing as having too many pitchers and we know Counsell is a firm believer in that. If Brown continues to develop and has success in Triple-A, there is no reason for him not to be helping the Milwaukee Brewers out of the bullpen in 2019.