Milwaukee Brewers: Why Miller Park should keep its name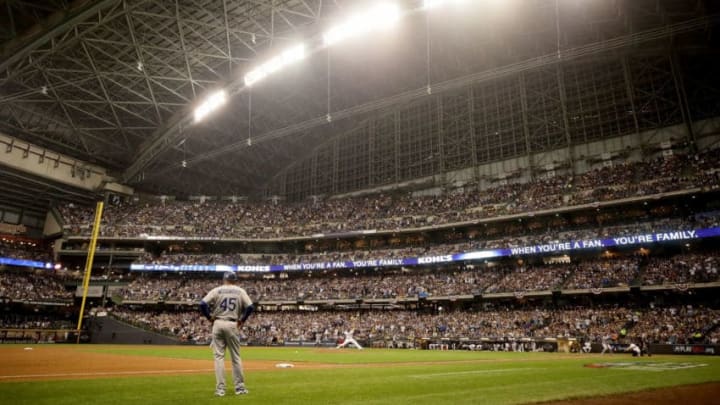 MILWAUKEE, WI - OCTOBER 19: Jeremy Jeffress #32 of the Milwaukee Brewers throws a pitch against the Los Angeles Dodgers in Game Six of the National League Championship Series at Miller Park on October 19, 2018 in Milwaukee, Wisconsin. (Photo by Jonathan Daniel/Getty Images) /
The renaming of Miller Park to some more-corporate name-to-be-chosen-later is a source of deep distress for many Milwaukee Brewers fans and a great loss for the city. Here's why it should stay Miller Park forever…
This is the second part of an examination of the pros and cons of the new sponsorship deal.
American Family Insurance has paid for the naming rights to Miller Park, but nobody will tell how much they actually paid, and they don't even have a name picked out yet.
At time of writing, more than 51,500 people have signed a petition in an effort to preserve the stadium's current name. Miller Park's official capacity is 41,900 and its record attendance is 46,218. If you took the petition's signatories and put them into one city, it would be the 12th largest in Wisconsin, just ahead of La Crosse.
There are many reasons why Milwaukee Brewers fans are furious at their club and American Family Insurance, but these three may land closest to home.
No Effort to Build Tradition
Many people are still struggling not to refer to Miller Park as County Stadium. Yet another new name just compounds the problem. Opening in 2001, Miller Park is tied with the Pirates' PNC Park for MLB's 11th youngest stadium, and it will be the first of post-2000 openings to change its name.
Baseball has a long history in Milwaukee, with the original Milwaukee Brewers being a founding member of the American League in 1901. It is an enduring shame that the city has been unable to keep a team or stadium long enough to rival Fenway Park or Wrigley Field.
Speaking of which, Wrigley Field is named as such because of the Wrigley family's ownership of the Cubs. While the Doublemint elves were major in-park advertising for a time, they were removed in the 1930s. Since then, other owners have refrained from selling naming rights for Wrigley due to a respect for the history of the stadium. As a result, the north side stadium has kept its name for 93 years. It is a pity this couldn't happen in Milwaukee.
Gum is not a major part of Chicago, or of the Cubs identity. It would be a hard task indeed to think of a more fitting sponsor, one which seamlessly blends in with the team and its city, than Miller for the Milwaukee Brewers.
Brewers brew beer, Milwaukee brews beer, and Miller is a company with deep roots in Milwaukee.
Baseball is an amazing sport for many reasons. History and tradition are two of the most important. Being able to take your own children to the same building as your parents took you, being able to tell stories of when you were at Lambeau Field, when you were at Miller Park, those are precious connections for fans. To pretend that the name of a building has nothing to do with its identity is ridiculous.
Miller Park has now hosted two Championship Series, and 14 playoff games in just 18 years. That's one more Championship Series than the Brewers managed at County Stadium, and only one less playoff game than the Braves and Brewers combined for across 44 total seasons. That's success and history worth keeping for a city used to watching losing baseball teams.
Insurance Sucks, Beer is Awesome
Lest we forget, Miller Park almost never existed. Miller played a key role in financing the stadium by ponying up $40 million for the naming rights, a crucial last piece of funding that made our wonderful memory filled stadium possible.
While the stadium plan was unpopular at the time, the roof allows the Brewers to fight off the unpredictable Midwest weather and largely outdraw their counterparts. This often in spite of poor on-the-field performances.
Since opening Miller Park, the Brewers attendance has ranked in the top half of the National League 11 times in 18 years, with just six seasons above .500. At County Stadium, the Brewers breached the top half just seven times in 31 years, despite 10 seasons above .500.
Miller provided a major part of the financing that made this stadium happen. They took a big chance spending that much money on the Crew when they signed on to sponsor the park in 1996. While the club finished 80-82 that year, they were in year four of what would be 12 straight losing seasons. A .346 winning percentage in 2002, the stadium's second year, must have given the brewery's executives some extra pause.
It is easy to sponsor a winning brand, one that came within one game of the World Series last year. Well done American Family Insurance, very brave.
It is an entirely different thing to sponsor a losing brand.
Amusingly, the switch from a beer brand to insurance doesn't really jive with baseball's supposed desire to attract younger fans. If the corporate types at Major League Baseball are so desperate for younger fans that they would fundamentally change the rules of the game via a pitch clock or a ban on shifting, they probably hate the move from Miller to American Family Insurance. Tons of people really like beer, no one likes having to deal with insurance.
The Club Is NOT Struggling for Money
For all the arguments that the Brewers need the money from this deal to fund a winning team, the club has been doing pretty well for its investors.
Forbes' calculations from April 2018 valued the Milwaukee Brewers at $1.03 billion, with 2017 revenues of $255 million. Mark Attanasio and others paid just $223 million for the club in 2005. It more than quadrupled in value in just 12 years. This is not to begrudge Attanasio making money, Brewers fans are quite lucky to have such a supportive owner who is willing to invest in their beloved club.
The Miller naming rights deal brings the club $2.06 million per year, less than one percent of their revenue in 2017. As the club likely raked in far more money with playoff revenue and increased merchandise sales, the stadium sponsorship deal likely commanded an even lower percentage of 2018 revenues. For example, national TV deals are split evenly, with the Brewers getting $50 million, while another $50 million was paid out in 2018 due to MLB's sale of BAMTech to Disney. Those two payments alone nearly cover the Brewers 2018 payroll.
The closest thing to an estimate out there is Tom Haudricourt's speculation that the 10-15 year deal (there's a series of club options after the first decade) is worth at least $50 million. That's likely a conservative estimate, but even doubling that to $100 million brings the club somewhere between $6.7 million to $10 million annually, or $4.6 million $7.9 million more per year than the Miller deal. That's not really enough of a change in club revenues by itself to make a marquee name suddenly change course for Milwaukee.
But that's the point. Owner Mark Attanasio has already proven his willingness to spend to put a quality product on the field. Based on Baseball-Reference's estimated payrolls, Attanasio and company have already set the Brewers' record payroll mark six times, pushing to new heights in contention windows such as around the 2011 season. The payroll is already poised to soar to even grander heights in 2019.
The Milwaukee Brewers do not need American Family Insurance to stay competitive, and they are surely better off tradition-wise sticking with Miller Park. Certainly many fans feel that way.