Milwaukee Brewers Top Prospects List: #6 Zack Brown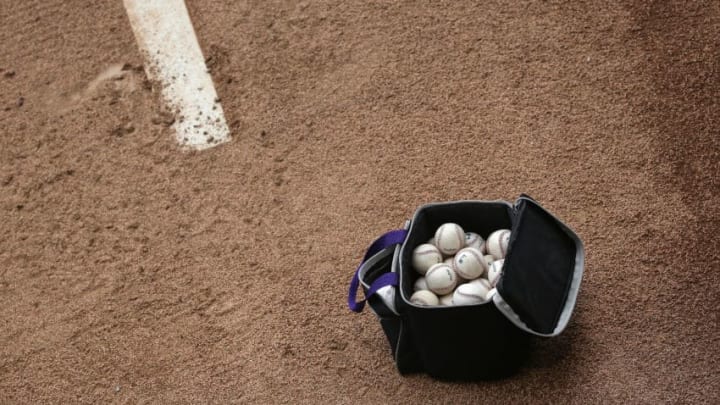 DENVER, CO - APRIL 25: A bag of baseballs sits on the mound in the bullpen as the Pittsburgh Pirates prepare to face the Colorado Rockies at Coors Field on April 25, 2016 in Denver, Colorado. (Photo by Doug Pensinger/Getty Images) /
It's that time of year for everyone to re-do their organization's top prospects list. Here at Reviewing the Brew, we're going to rank our top 15 Milwaukee Brewers prospects.
Next up on our Milwaukee Brewers Top 15 Prospects list is #6 RHP Zack Brown, the 2018 Brewers Minor League Pitcher of the Year.
Brown will join the major league club at Spring Training this offseason as a non-roster invitee.
#6. RHP Zack Brown
Drafted in the 5th round of the 2016 MLB Amateur Draft, Brown has gotten better every year he has been in the Brewers organization. He's been under the tutelage of new Brewers pitching coach Chris Hook.
In 2016, then 21-year-old Brown had a rough go in Helena and Appleton, going 1-4 with a 4.46 ERA and 1.30 WHIP in 12 games. But in 2017, he went 7-5 with a 3.11 ERA and 1.25 WHIP in 22 games with the Timber Rattlers and Mudcats. Those two seasons landed Brown a number of Brewers top 25 prospects lists, including the #25 spot on the RtB list.
Brown earned a starting spot in Double-A Biloxi last Spring and was electric for the Shuckers. In 22 games, Brown was a team-best 9-1, not losing a game until August 25th. His 2.44 ERA was the best among the starting pitchers in all of Double-A baseball, and his 1.04 WHIP was second overall.
Brown also grew as a pitcher during 2018. He developed a solid three-pitch mix and was hitting mid-90s with his fastball consistently. According to MLB.com, Brown had a great mix between his fastball-curveball, and has a changeup that worked well with his four seam fastball.
More from Brewers Prospects
Brown's 2018 was special, not only was he named Brewers' Minor League Pitcher of the Year, he was also the Southern League's Most Outstanding Pitcher. He was a Southern league All-Star, Baseball America Double-A All-Star, and a Southern League Postseason All-Star.
Brown's 2018 didn't end after the disappointment of losing the Southern League Championship, he was invited to take part in the Arizona Fall League. Brown played in just one game with Peoria before calling it a season, pitching 2.0 innings, giving up three hits and striking out three.
Brown skyrocketed up the Brewers prospect list at the end of 2018, moving up to #8 according to MLB Pipeline and is the top Brewers pitching prospect in the farm system.
In December, Brown gave back to his hometown youth in Seymour, Indiana, instructing at their annual Pitching Drills Camp.
"I'm still learning pitching myself," said Brown. "If I can pass along a few things I've learned, they will know it by the time they go to high school."
Brown was invited to the Rookie Career Development Program in January, where he received guidance and lessons on financial planning, dealing with the media, handling situation in the clubhouse, drugs abuse in baseball and other topics. Many that attend the program, often make a major league roster the following season.
When could we see Brown in Milwaukee?
Being a non-roster invitee to Spring Training is a big deal. 2017 Brewers' Minor League Pitcher of the Year Corbin Burnes was invited last spring, Aaron Wilkerson was invited in 2017, Josh Hader was invited in 2016, so the path to the major leagues isn't often a long one for pitcher that are able to show they are ready for the jump.
With that, Brown can look at Burnes and 2016 Brewers' Minor League Pitcher of the Year Brandon Woodruff as examples. Both made their debut in Milwaukee the following season.
The Brewers most likely view Brown in a similar light as Burnes. A starting pitcher in the long-term, but will earn his stripes in the majors in the bullpen first. It wouldn't be a surprise to see Brown become part of Manager Craig Counsell's relief pitching merry-go-round during the 2019 season.
For a future rotation spot, Brown may have to look to 2020 before he can find one of those. But he'll be in a Milwaukee Brewers uniform soon.