Milwaukee Brewers: Who does MLB Pipeline have at #28 in the draft?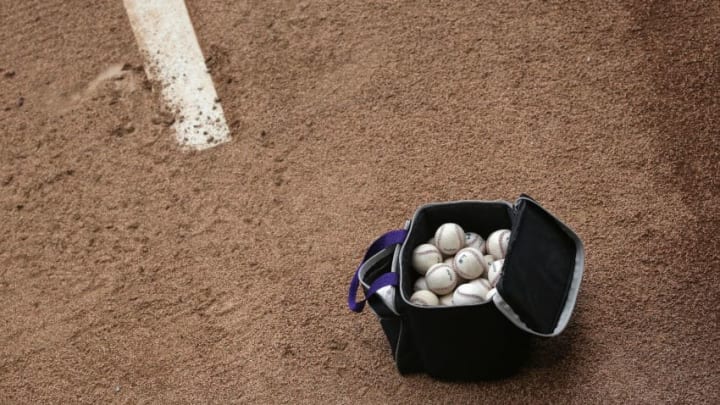 DENVER, CO - APRIL 25: A bag of baseballs sits on the mound in the bullpen as the Pittsburgh Pirates prepare to face the Colorado Rockies at Coors Field on April 25, 2016 in Denver, Colorado. (Photo by Doug Pensinger/Getty Images) /
MLB Pipeline released its first mock draft by Jim Callis, and their pick for the Milwaukee Brewers first selection might surprise you. Let's see who they have coming to the Brewers in early June.
You can find the latest mock draft here, but we're going to spoil the Milwaukee Brewers projected first overall pick. MLB Pipeline has high schooler Rece Hinds at the 28th overall selection. Who is Hinds? Is there any chance the Brewers take another high schooler in the first round? Who else is an option?
Who is Rece Hinds?
Hinds is a product of IMG academy, and he comes with jaw dropping power, and it's clear why he'll be among the first 40 names called. He also has a really concerning draft profile. He has concerns with his swing, and it's also unclear if he can stick at third base or will have to move to the outfield.
He's still considered one of the top prep prospects in the draft due to his size and his tremendous raw power. Hinds stands a 6'4″, and weighs 210 lbs. That's not a high school body. His exit velocity has been clocked at over 100 MPH, and he's capable of hitting baseballs a long, long way. He also has a cannon for a throwing arm, and reportedly has been clocked at 98 MPH throwing from third to first.
His swing is very long, and that will hurt him in the professional ranks until he makes an adjustment. He also needs work on his footwork if he wants to stay in the infield.
He's been all over the map on draft boards this year. He's been viewed as a top-10 pick in certain mocks, and outside the first round in others.
Will the Brewers take another high schooler in the first round?
It's possible. The Milwaukee Brewers snagged shortstop Brice Turang with the 21st pick in the first round last year. Turang was also viewed as a top-five pick in the off season, but saw his draft stock fall. Turang currently has a .294/.410/.388 slash line in 24 games at Single-A.
Why wouldn't the Brewers take Hinds?
If the draft plays out the way MLB.com has it playing out, the Milwaukee Brewers would probably pass on Hinds. Prep left-hander Hunter Barco is projected at the 29th pick. He's viewed as the top prep lefty, and was also viewed as a top-10 pick at one point.
Barco has already has three plus-pitches that project to develop in Major League-quality. His fastball sits in the low-to-mid 90s, his change up is already hard to differentiate from his heater until it leaves his hand, and his slider is already a functional pitch.
He'll have to adjust his delivery and arm slot to maintain command and consistency, but there is a lot to work with for the Brewers coaching staff.
The Milwaukee Brewers also lack left-handed pitching at just about every level of their organization. Adding a solid arm to an organizational weakness could prove too tempting for GM David Stearns. If Hinds and Barco are still on the board by the time the 28th pick comes up, Barco makes more sense for the Brewers instead Hinds.