Milwaukee Brewers: Orlando Arcia, A Power Hitter?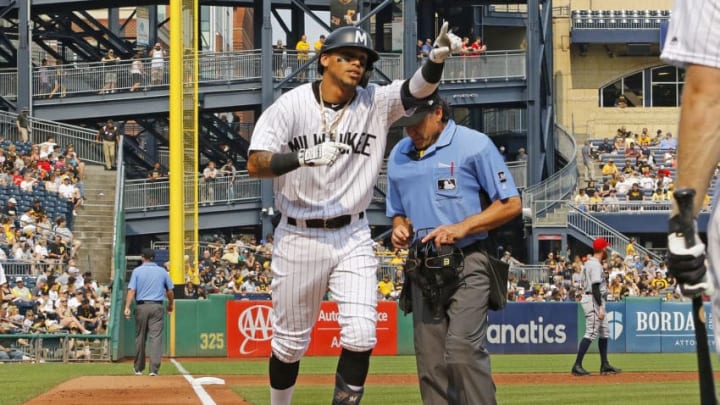 PITTSBURGH, PA - JUNE 01: Orlando Arcia #3 of the Milwaukee Brewers reacts after hitting a two run home run in the second inning against the Pittsburgh Pirates at PNC Park on June 1, 2019 in Pittsburgh, Pennsylvania. (Photo by Justin K. Aller/Getty Images) /
The Milwaukee Brewers have one of the most powerful lineups in the National League with a surplus of power hitters. But even this has been unexpected.
It's a power surge for Milwaukee Brewers shortstop Orlando Arcia. On Saturday against the Pirates, Arcia slugged two home runs, including the go-ahead homer in the 13th inning, bringing his season total up to eight long balls.
And it's only June 1st.
A Resurgent Season
2019 has gotten off to a much better start for Arcia than 2018 did. On June 1st last season, Arcia was hitting .203 with a .525 OPS and two home runs. This year, Arcia is hitting .264 with a .766 OPS and eight home runs on June 1st.
He seems to have found his swing again and has found some extra pop along with it.
Arcia had his first multi-home run game of his career on Saturday night, and it's just the latest display of power for the young shortstop, who now finds himself 5th on the team in home runs, ahead of guys like Lorenzo Cain, Jesus Aguilar, Travis Shaw, and Eric Thames.
Arcia is on pace for 22 home runs this season, which would put him as one of the best offensive shortstops in all of baseball. His career high in home runs for a season is 15, which he achieved in 2017.
Is Orlando Arcia A Power Hitter?
After a multi-home run game and an unexpected early season home run total of eight, Arcia has some newfound power. He hit only three home runs all of last season as he was mired in a terrible slump for most of the first four months.
On pace for a 20+ home run season, that would make him a power-hitting shortstop, but Arcia doesn't really look like your typical power hitter, coming in at 6'0″, and 165 pounds dripping wet.
Despite his high home run total in the first few months of the 2019 season, Arcia does not look like he'll be joining the club of power hitters anytime soon.
Arcia's 86.1 MPH average exit velocity and 27.2% hard hit percentage are both well below league average. He simply doesn't hit the ball hard enough and often enough to be considered a power hitter, although he can run into home runs from time to time.
Arcia probably will never consistently hit 20+ home runs a season, but he'll likely land in the 15-20 range when he's having a good year, which he is in 2019. He has solid-average pop, but other sluggers like Mike Moustakas, Christian Yelich, and Travis Shaw are typically guys you can count on to hit 30+, or at least 20+ home runs a season as long as they're healthy. Arcia might hit 20, it everything goes right for him.
So no, Orlando Arcia is not all of a sudden a power hitter, but he does have some decent pop in that bat, and even though he suffered through a bad 2018, he's turned things around here in 2019.
The Milwaukee Brewers have gotten unexpected power out of Arcia this year, and it's come at the perfect time. Arcia is proving that he still have value left in that bat, and he's not an all-glove, no-bat type player.