Milwaukee Brewers: Breaking Down The Crew's 2019 MLB Draft Class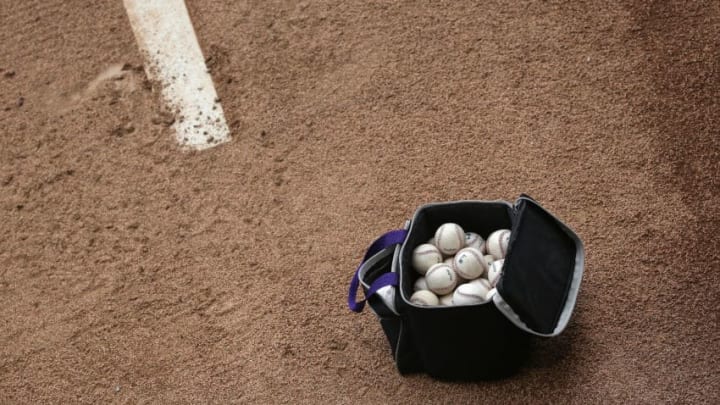 DENVER, CO - APRIL 25: A bag of baseballs sits on the mound in the bullpen as the Pittsburgh Pirates prepare to face the Colorado Rockies at Coors Field on April 25, 2016 in Denver, Colorado. (Photo by Doug Pensinger/Getty Images) /
The 2019 MLB Draft has concluded. The Milwaukee Brewers made 39 selections and there were some very intriguing trends.
If you ask any GM of any sports franchise, they'll tell you that their strategy for their league's annual draft process is "best player available" or something of the sort. You generally don't hear much else out of them. Milwaukee Brewers GM David Stearns and Scouting Director Tod Johnson are no different.
But there appeared to be an underlying strategy to their 2019 Draft class. Let's take a look at the breakdown by the position of the Brewers draftees.
Position Breakdown
Catchers: 4
Shortstops: 5
Second Basemen: 2
First Basemen: 1
Outfielders: 6
Right handed pitchers: 12
Left handed pitchers: 9
Look at all those left handed pitchers down there! Nine of them in this draft, with seven of them coming in the first 17 rounds. The first two Brewers selections were left-handed pitchers, and their first three picks on Wednesday were lefties.
We've discussed the Milwaukee Brewers lack of left handed pitching depth at length, and believed this was a huge need to address in the Draft this year.
And they addressed it in a big way!
Last year, the Brewers drafted 10 left handed pitchers, but nine of them came in the 17th round or later and five of them didn't sign. This year, the Brewers took seven LHPs in the 17th round or earlier and most stand a good chance of signing as they are college arms. This was exactly what the Brewers needed.
Hitting Breakdown
The Brewers selected 18 position players in this draft. Six of them were outfielders, and the first outfielder wasn't selected until the 7th round with Gabe Holt out of Texas Tech.
There was an early priority on catchers as the Crew selected three of their four catchers on Day 2, starting with Nick Kahle out of Washington in the 4th round, followed by Thomas Dillard from Ole Miss in the 5th, and ending with Darrien Harris out of Clovis HS in the 9th.
Let's take a look at the hitting styles of all the Brewers position player selections.
Left handed: 7
Right handed: 8
Switch: 3
It's a pretty even split between left handed hitters and right handed hitters for the Crew. A couple of switch hitters are also mixed in there. Those switch hitters are Dillard (5th), Jackie Urbaez (29th), and Odrick Pitre (35th) for those curious.
With how Miller Park is set up, it's a great place for left handed hitters, especially those with power. So getting a good amount of lefty hitters in the draft is a solid plan.
School Breakdown
The Brewers also had a trend in their selections between the high school and college ranks.
4 year university: 24
Junior college: 7
High school: 8
Four year college players are better prepared for professional baseball and can rise through a farm system quickly. They're seen as players that are closer to sure things out of the draft. High schoolers are quite volatile and take a while to develop. There's less development with college guys.
Of those 24 four year college guys, seven were college seniors, including their first round pick Ethan Small. Seniors are virtual guarantees to sign a contract, and they'll take a very low signing bonus since they have no leverage. The Brewers won't be able to get away with too low of a bonus to Small, but they'll still save money.
Having the second lowest bonus pool in MLB this Draft definitely seemed to have an impact on the Milwaukee Brewers strategy. What also could've played a role is that the team's current championship window will likely close in 3-4 years and by the time that happens, most of these college guys will be ready to help the big league club and keep that window open longer.
This is all a part of David Stearns' strategy to build a continuous championship contender in Milwaukee. By building through the draft, the farm system can continually churn out big league talent and keep the team competitive.