Milwaukee Brewers: Why is Devin Williams in the Futures Game?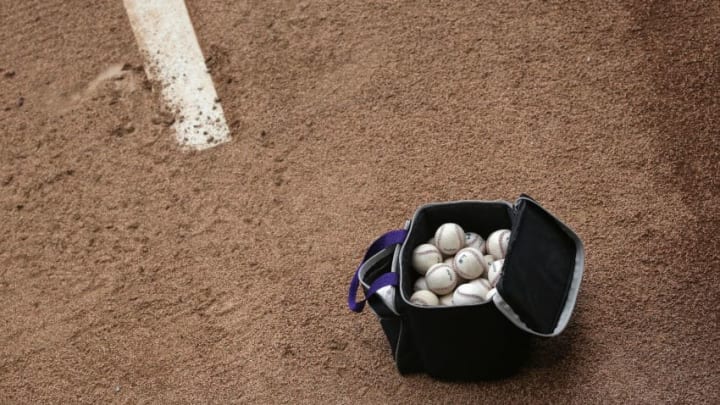 DENVER, CO - APRIL 25: A bag of baseballs sits on the mound in the bullpen as the Pittsburgh Pirates prepare to face the Colorado Rockies at Coors Field on April 25, 2016 in Denver, Colorado. (Photo by Doug Pensinger/Getty Images) /
The Milwaukee Brewers have a lot of unique talent throughout their Minor League system, but Devin Williams is the sole representative in the 2019 Major League Baseball Futures Game. Why was Williams selected?<?h2>
It wasn't a huge shock that the Milwaukee Brewers only had one name on the 2019 Futures Game roster. The farm system has intriguing prospects, but a few years of deadline deals and several key call ups have the Minor Leagues lacking in top tier talent.
The shock was the name that was selected. Devin Williams is set to represent the Milwaukee Brewers in this year's Futures Game. Why Williams over other top arms?
How has Williams performed this year?
He's been solid for the Double-A Biloxi Shuckers. Williams owns a 2.70 ERA in 46 2/3 innings of relief work this year. He's managed 62 strikeouts, 29 walks, and three homers allowed this year. Williams has a 6-2 record, and has earned one save this year.
Why is Williams an odd choice?
Well, he's not really a top prospect. Williams is in his age-24 season, and he's still only in Double-A. He's also been in the organization since 2013.
Williams is clearly putting together a solid season, and he could manage to get a call up late this year or early next year, but he's not exactly a standard Futures Game participant. Most of the guys populating the Futures Game roster have impressive pedigrees. There are over a dozen first round draft picks, and multiple top international prospects on the Futures Game roster. There aren't very many 24-year olds who were taken in the second round of the 2013 draft.
Who should have represented the Brewers in the Futures Game?
The Milwaukee Brewers have several young arms that fans would have liked to see compete against the top talent in the game.
Trey Supak is an obvious choice. Supak is also in Double-A, but he has a 2.69 ERA in 16 starts. He's worked 97 innings, and managed 67 strikeouts, 19 walks, and six homers allowed. He's also been rated among the Milwaukee Brewers top-20 prospects for the last few seasons.
They also could have selected 2018 fourth round draft pick, Aaron Ashby. Only in his second year in professional baseball, Ashby is already in High-A. He's worked 81 innings between Single-A and High-A, and has a 3.11 ERA overall. In 81 innings, Ashby has fanned 101 batters, allowed 34 walks, and surrendered four homers.
Drew Rasmussen also would have made sense. Rasmussen has worked at three levels of the Milwaukee Brewers Minor League system this year, and has climbed up the top prospect rankings. Rasmussen owns a 3.89 ERA in 41 2/3 innings of work this year in the Minors. He's struck out 52, walked 21, and given up two homers. He's also struggled since arriving in Double-A.
It's great to see Williams get recognized for his success this year, but he makes for an unusual Futures Game pick. The team has other options that would have been more interesting to see against top talent, and the selection of Williams is still a bit of a head scratcher. However, it could also mean big things for Williams' future, as most players appearing in these games end up in the Majors sooner rather than later. There's a solid chance that Williams ends up playing a key role in the Brewers bullpen in 2020.