Brewers News: Arizona Spring Training Site Reopens To Players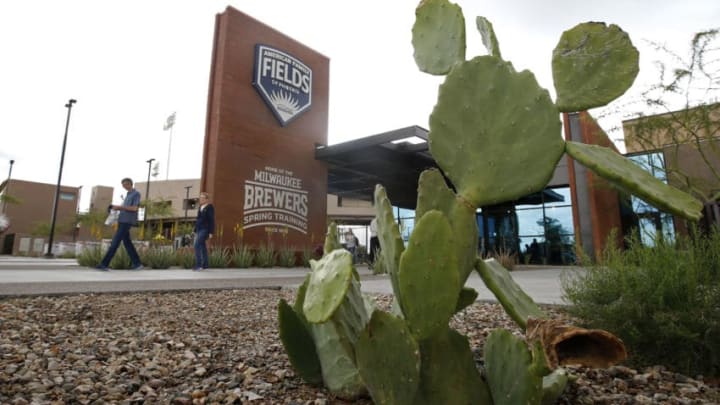 MARYVALE, - MARCH 12: Fans walk from American Family Fields stadium, spring training home of the Milwaukee Brewers, following Major League Baseball's decision to suspend all spring training games on March 12, 2020 in Phoenix, Arizona. The decision was made due to concerns of the ongoing Coronavirus (COVID-19) outbreak. (Photo by Ralph Freso/Getty Images) /
In Milwaukee Brewers news, the team has announced that their spring training site in Arizona, American Family Fields Of Phoenix, has reopened to players for workouts.
We can see the light at the end of this long, dark tunnel without baseball that we've been going through for the past two-plus months. The Milwaukee Brewers, along with some other teams, have begun reopening their spring training sites to players that have been closed down for weeks.
Since the shutdown, players have had to work out at home, not in a group setting with their teammates, and have been denied team facilities. With most public gyms also being closed, some players may have had tough times finding a way to productively work out.
While this isn't the official beginning of spring training, this is a huge step in the right direction. Adam McCalvy was first with the news.
When spring training was shut down, players had the option of staying in Arizona where they were living for spring training, going to their team's home city, or going to their offseason home wherever that may be. A lot of players chose to go home, but for some, home is right there in Phoenix.
As McCalvy mentions, players like Corbin Burnes, Keston Hiura, and Josh Hader live in the Phoenix area in the offseason and will be able to work out at the team facility now. This is not a full call for everyone to be back at spring training though.
The MLBPA and MLB are working on figuring out the details for a 2020 season and are trying to come to an agreement. There's been much back and forth on those negotiations through the media and they seem to be very contentious discussions. The lack of trust between the two sides has hampered their progress so far.
But both sides realize that their only chance to look good in all of this is to come to an agreement and have a season in 2020. They should get one done and it looks like the current timeline has spring training starting back up officially in mid-June with the start of the regular season in early July.
Everything remains fluid, but the reopening of spring training sites is a very positive step. After the Brewers assured their baseball operations staff of full salaries and employment through the 2020 season yesterday, that makes two positive moves for the organization in two days.
Although not as soon as we had hoped, we will have Brewers baseball back in our lives soon.
It's unclear exactly how many players will be attending individualized workouts at Maryvale, or when other players who don't live in the Phoenix area will be able to attend, but it's a good start.