Brewers: Ashby to Appleton As Top Left-Hander Gets Call to Alternate Site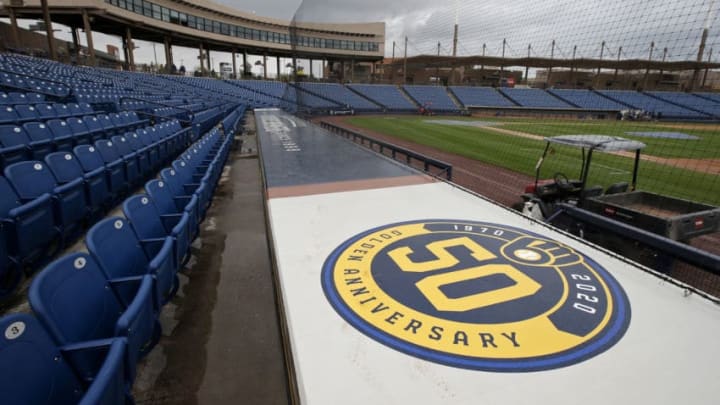 American Family Fields of Phoenix (Photo by Ralph Freso/Getty Images) /
The Brewers have added another young lefty to their alternate training site, with the addition of 22 year-old prospect Aaron Ashby.
Aaron Ashby was a 4th round pick of the Brewers back in 2018, from Crowder JC, was the Robin Yount Performance Award recipient signifying him as the Brewer's top farm arm in 2019.
MLB Pipeline ranks Ashby as the Crew's 6th ranked prospect in the system. Ashby has been tabbed by Prospects1500.com as the Brewers No. 7 prospect.
Ashby is getting his first taste of playing with big leaguers, as he is joining a mixture of young talent and veteran backups in Appleton. This chance for Aaron is huge, as he will be able to face big-league caliber hitters while in a controlled environment.
The schedule that will be instilled for Ashby will hopefully take him into the offseason in better shape than most minor leaguers since they are sitting at home or playing with unaffiliated, independent ball teams.
The addition of Ashby puts the Brewers 60 man player pool at full capacity.
Aaron Ashby's Repertoire
Ashby projects as a prototypical left-handed starter. Standing 6'2″, 181 lbs. he has the frame of a starter. He features a low-to-mid 90s fastball, accompanied by a changeup, slow-breaking curveball in the 70s, with a hard slider in the low 80s.
Since leaving rookie ball (6.20 ERA), Ashby has fared much better with last year ending in High A with a respectable 3.46 ERA. The win-losses does not matter as much in the minors, due to the lack of talent compared to the big leagues. The health has been there for Ashby, which has allowed him to advance in the farm system very consistently.
Aaron projects as a 4th or 5th starter, with the upside being a No. 3 starter. Next spring, Ashby will likely be a non-roster invite to Spring Training again with the potential to be in a position make the roster mid-year if an arm goes down. Personally, he reminds me a lot of a smaller Jordan Montgomery with the combination of pitches and the slow curveball. Best case, a healthy Rich Hill when he was with the Los Angeles Dodgers.
Live in the Moment
Right now, Aaron should just enjoy the moment and get better while in Appleton. He is not a contender to get the call to the big leagues this year, so he should stay focused on his craft and learn how to develop his pitches. The Brewers did a good job of adding Ashby, since being a top pitching prospect having him in structure will only help, rather than losing a whole year of teaching Ashby.
Fans and the organization should be happy with the move, as this is a long-term significant move. Looking back in five years, this can only help the development of Ashby and the future pitching staff.
For now, you can see Ashby featured in Bowman Chrome baseball trading card packs with his 1st Bowman card and autographs. Who knows, in five years they might be worth a lot more than you ever thought.