Brewers Rumors: Stearns Gauging The Trade Market For Josh Hader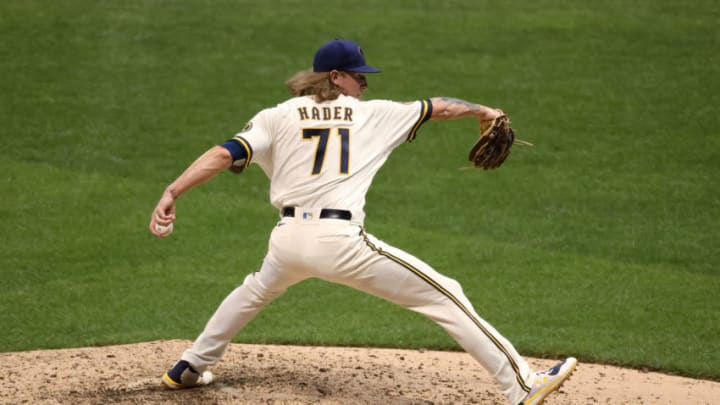 MILWAUKEE, WISCONSIN - AUGUST 24: Josh Hader #71 of the Milwaukee Brewers pitches in the eighth inning against the Cincinnati Reds at Miller Park on August 24, 2020 in Milwaukee, Wisconsin. (Photo by Dylan Buell/Getty Images) /
The latest Brewers rumors have GM David Stearns listening on his star reliever, Josh Hader.
In some ways this is a surprise and in other ways, it's not surprising at all. Ken Rosenthal has heard some Brewers rumors that GM David Stearns is listening on trade talks surrounding All Star closer Josh Hader.
After a brutal stretch of games on the road trip and with the Crew currently sitting outside of playoff position, it might make sense for the Brewers to sell at the deadline that is now less than a week away, especially if things don't start looking better.
However, would Stearns really trade his best piece in a shortened season for a likely diminished return? Nope.
Listening, Not Selling On Josh Hader
Rosenthal says in his article that "no trade is likely" and that the asking price for Hader is "bananas".
David Stearns is a smart guy, and he'll listen at the very least on almost anyone. The only exception at this point might be Christian Yelich, but that's about it. That doesn't mean he's looking to trade everyone else, but a smart GM will at least listen to offers or proposals, gauge how other teams value his players, and use that information going forward.
Stearns is right to put a "bananas" asking price out there for Hader. He's made eight appearances this year, hasn't allowed a hit, and has been the NL Reliever of the Year for the past two seasons. He's arguably the best reliever in baseball right now, so it makes sense to have a high price for him.
If Stearns is going to be willing to part with a player like that, he's going to need a haul in return, regardless of how short the season is or whether it might be cancelled. There's no immediate need to unload Hader, so there's no need to sell him at a discount.
Don't panic, Hader still isn't going anywhere. Unless the Brewers completely collapse over the next six days and some team out there is all of a sudden going to be willing to pay a king's ransom to get him, Hader will still be in a Brewers uniform on September 1st.
Rosenthal had some more Brewers rumors and said that if they do choose to sell some relievers, David Phelps or Alex Claudio might be the ones to go. Neither will bring back the haul that Hader would, but it could provide something for the Brewers to reload.
Teams will continually call and ask about Hader, and Stearns will hear what they're saying and still tell them no at the end of each conversation. At some point, someone may be willing to pay the price necessary to land Hader, but that's not looking like it'll be anytime soon.
More Brewers rumors are sure to surface over the next few days. Will any of them lead anywhere? Maybe a few, but this Hader trade talk is most likely going to fizzle out pretty soon.