Brewers Podcast Episode 1: The Trade Deadline With Robert Murray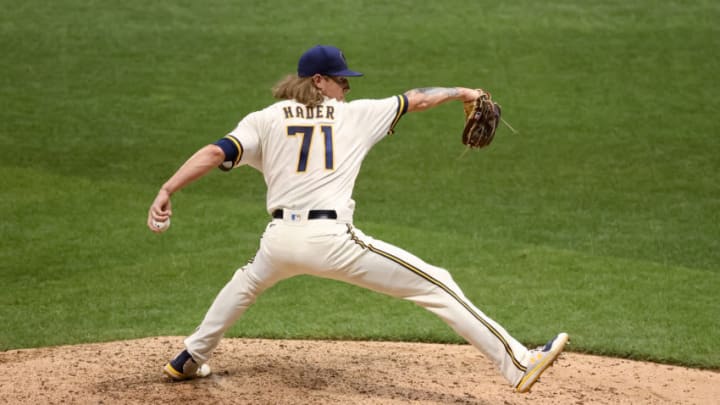 MILWAUKEE, WISCONSIN - AUGUST 31: Josh Hader #71 of the Milwaukee Brewers pitches in the ninth inning against the Pittsburgh Pirates at Miller Park on August 31, 2020 in Milwaukee, Wisconsin. (Photo by Dylan Buell/Getty Images) /
We're back in the Brewers podcasting game with a very significant first episode.
Back by popular demand, Reviewing the Brew is returning to the podcasting world. Our initial podcast, started in fall 2018 and running through the early part of May 2019 saw some success and was a lot of fun. But due to the hosts getting new jobs, it went on hiatus, to the dismay of many Brewers fans who tuned in.
But now, we are back and better than ever before! This version is called the "Cold Brew Podcast" as we talk about the Brewers and baseball over a couple of beers, as good friends do.
The hosts this time around are David Gasper and Matt Carroll, who are the editors here at Reviewing the Brew. In this first episode they are joined by none other than Robert Murray, former Brewers beat writer at The Athletic and a National MLB Insider.
Cold Brew Podcast Discussion
David, Matt, and Robert get started discussing one of the most infamous moments of Robert's career covering the Brewers, when in 2019 he reported a "significant" trade with the Giants that led everyone to believe it was Will Smith or Madison Bumgarner, but instead turned out to be Drew Pomeranz.
Then we turned our focus to this year's trade deadline where Robert was the one who broke the big trade of Mike Clevinger to the Padres. He takes us through how he broke that news and how he handled a pretty hectic deadline day.
After that, David couldn't go too much longer before talking about Corbin Burnes. Burnes has dominated in 2020 after making some arsenal changes and we discussed his prospects for a potential Cy Young award down the road, and Robert agreed, sort of. Also there was a ton of interest in Burnes at this year's deadline, which Robert talks about, and there's a reason he's not going anywhere.
We discussed the loss of Yasmani Grandal and the effect he had on the pitching staff and the mysterious pitching lab that the Brewers won't let anyone see.
One of the big moves this past offseason was the Luis Urias trade with the Padres and the three of us talked about how and why that deal went down, what the Brewers believed of Urias and Trent Grisham and how this could play out going forward.
Our focus then turns to the bullpen with service time manipulations of Eric Lauer and Drew Rasmussen as well as the emergence of Devin Williams. Williams' changeup has been lights out all season and his success might lead to increasing odds of Josh Hader being traded.
There were rumors of Hader drawing interest at the deadline, which Robert was able to add some more detail to than what has been publicly reported so far and whether he thinks Hader will remain a Brewer all the way through to his scheduled free agency. (Hint: no)
Then we get to the actual trade the Brewers made at the deadline, sending David Phelps to the Phillies and discuss the return, how it's similar to the Adam Lind trade, and what could make this trade a success down the line for the Brewers.
Robert also had some thoughts on the Brewers scouting department recently letting go of some scouts and the industry-wide trend of thinning out those departments.
Finally, we discuss Robert's first day on the Brewers beat and the first time he asked a player a question in a post-game interview. It's a great story with a happy ending that you won't want to miss.
Follow and subscribe to the Cold Brew podcast on Anchor, Spotify, or other podcast platforms.