Brewers: Ranking The Top 5 Potential Suitors For A Josh Hader Trade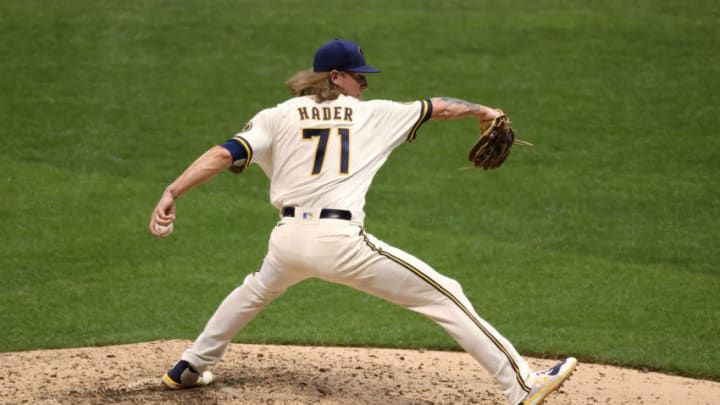 MILWAUKEE, WISCONSIN - AUGUST 24: Josh Hader #71 of the Milwaukee Brewers pitches in the eighth inning against the Cincinnati Reds at Miller Park on August 24, 2020 in Milwaukee, Wisconsin. (Photo by Dylan Buell/Getty Images) /
There's going to be a large number of teams interested in trading for Josh Hader this winter. Here we'll rank the top potential suitors for the Brewers superstar reliever.
The Brewers have something everyone else wants, but no one else has. Josh Hader is a one-of-a-kind reliever with a track record of success and he's in the prime of his career. His combination of stuff, deception, and multi-inning ability is something that will intrigue every front office in baseball.
For the past two years, there have been murmurs and rumblings about teams trying to acquire Hader away from the Brewers, and nothing ever really seemed to get close.
The Brewers have maintained an extremely high price tag on Hader in trade talks, with reports during the summer that GM David Stearns was demanding a return higher than what the Yankees got in return for Aroldis Chapman in 2016.
Hader has three years of team control remaining, all through arbitration, and is still just 26 years old. Chapman at the time, was a three month rental and was much older. Stearns has every right to ask for that kind of price, but will he find someone that will pay it?
We've previously discussed on this site that the Brewers may need to trade Josh Hader this winter due to his rising salary, payroll restraints for 2021, the current depth of the Brewers bullpen, and the need to fill holes on the roster elsewhere. Frankly, Hader's trade value may never be higher than it will be this offseason.
If a Josh Hader trade were to come to fruition this offseason, who might be the interested teams? Let's rank the top five potential suitors.
5. Philadelphia Phillies
The Phillies need bullpen help in the worst way. A once likely postseason team in 2020, their hopes derailed as their bullpen turned into a complete dumpster fire. The Brewers even traded David Phelps to the Phillies at the deadline this year, but that wasn't enough.
A lockdown closer like Josh Hader would be the perfect addition to that bullpen and give them the boost they need to get back into the playoffs.
A large market team like Philly would have the financial capability to pay Hader over the next three years, even coming off a season with no fans. However, there are some complicating factors.
The Phillies currently, as of November 10th, do not have a GM. Their process for filling the hole left by Matt Klentak has been slow and interim GM Ned Rice currently has the reins, but it's unlikely he would make a decision as big as a trade for Hader before the new GM comes in.
Another issue is what the Brewers would get in return for Hader from Philly. Their farm system isn't particularly great, and there isn't much from the big league roster that would either be on the trade block or impactful in a potential Hader trade.
The Brewers have needs at both the corner infield spots. At third base, the Phillies have Alec Bohm, who just finished second in the NL ROY voting behind another Brewers reliever, Devin Williams. Bohm is unlikely to be going anywhere, even for Josh Hader.
Rhys Hoskins mans first base for the Phillies and they might be willing to part with him, but he's in arbitration as well and is under the same amount of team control as Hader is. Should a deal come together, it's going to take more than just Rhys Hoskins.
With the Phillies needing to figure out a future direction and since it looks like it'll be tough for them to pay the full price for Hader, they come in at No. 5 on this list.