Brewers Should Not Trade Away Competitive Balance Draft Pick This Year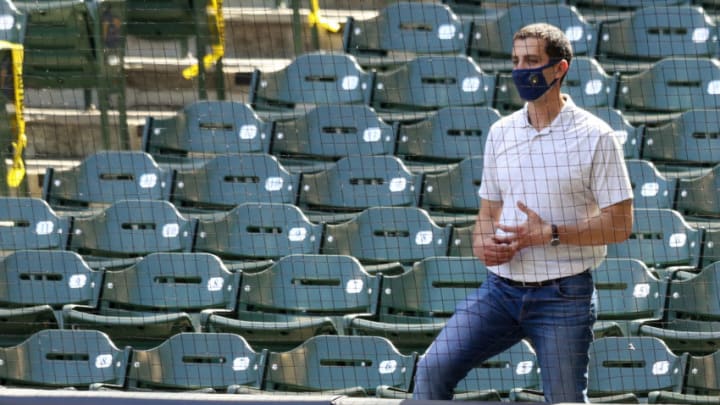 David Stearns, Milwaukee Brewers (Photo by Dylan Buell/Getty Images) /
The Milwaukee Brewers have had a history of trading away their Competitive Balance draft pick. History better not repeat itself this year.
Please don't do it, David Stearns!
Last year, the Brewers traded away their Competitive Balance Round B draft pick, along with Adam Hill, to the Mariners for Omar Narvaez. The year before, the Brewers traded their Competitive Balance Round A draft pick for Alex Claudio.
This year, for the love of Henry Aaron, Brewers please do not trade away your Competitive Balance pick!
I know it may sound like a good idea because the Brewers don't give up a prospect currently in the farm system that they may like, but after trading it away for two straight years, don't trade it away a third time.
Reasons for the Brewers to not trade their Competitive Balance pick
The 2021 MLB Draft is going to be the deepest class in recent memory. After the draft was shortened to just five rounds in 2020 and college players received an extra year of eligibility, there will be a boatload of talent eligible for the 2021 Draft.
There were a lot of high school kids who normally would have gotten drafted in 2020 but didn't. That means they went to school as well, with some of them going to JUCO, which makes those players eligible again in 2021.
A lot of players that normally would've gotten selected in a 40 round draft now remained in school and those seniors that would've graduated were given another year of eligibility to stick around. So now not only are last year's juniors and seniors still going to be available, last year's sophomore class as well will be eligible in 2021.
Recent reports have the 2021 MLB Draft still being downsized to possibly 20 rounds instead of the usual 40. With the cutdown of minor league affiliates, this makes some sense, as contentious the idea of cutting down minor league affiliates may be.
The Brewers are going to want as many draft picks as possible in a loaded 2021 MLB Draft class.
The Brewers farm system has been light on top prospects for a little while now, and as important as the 2021 big league roster is, they also need to stock up the farm system. Adding only five players in the draft this year didn't help that depth very much, although the picks they made were pretty strong.
This year, the Brewers are projected to land in Competitive Balance Round A, which immediately follows the first round. That would give the Brewers another pick somewhere in the 30-38 overall range. In a loaded class like this one, the Brewers could end up getting someone at that pick who would've landed in the middle of the first round in any other year. They already have a pick in the middle of the first round this year as well.
That is an extremely valuable pick that can add a blue chip prospect to the organization.
The 2021 class is going to be historically good. When you know a historically good draft class is coming, that's a year you want to get yourself as many draft picks as possible. Essentially, the league is giving the Brewers one for free because they're a small market team, which is the point of the Competitive Balance rounds. It's a gift! Don't waste it.
One could argue that the Brewers might have wasted their last two competitive balance picks in the trades they made. Alex Claudio has been here for two years and he's still yet to post a sub-4.00 ERA. They thought they were getting the 2.50-3.00 ERA guy that he was for a few years in Texas. That version of Alex Claudio is yet to be found.
Omar Narvaez improved defensively in 2020, but he was an offensive black hole and ended up losing playing time to Jacob Nottingham down the stretch. The jury's still out on whether Narvaez will prove to be a good acquisition. He's a non-tender candidate this winter, along with Claudio. Claudio was non-tendered last winter before being re-signed a few weeks later.
If all the Brewers can get for their Competitive Balance draft pick is a player who ends up being a non-tender candidate after one season, it's probably best to keep that early pick, use it on a draft prospect in a very strong draft class, and see what kind of future big leaguer you can draft and develop with it.
Draft prospects may be far away from the big leagues and may not help the roster in 2021, but Stearns has always talked about building a sustainable winning organization, and the best way to do that is to keep adding top talent to the organization with strong drafting. It's hard to have a strong draft when you trade away top 40 overall picks.
Keep the pick and add talent to the farm system. The Brewers need as much as they can get.