Brewers: Former All-Star RHP Corey Knebel Traded To Dodgers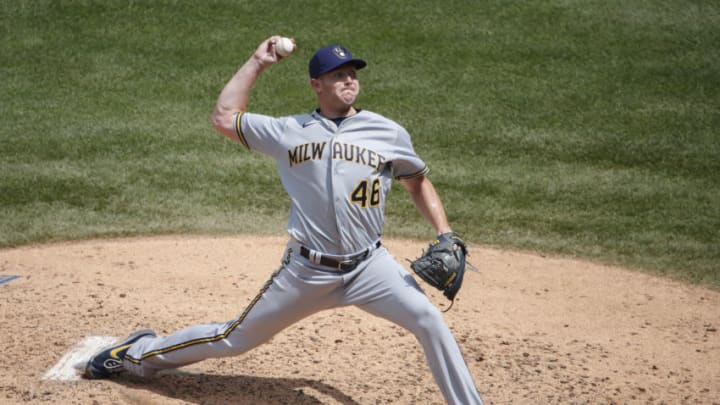 Corey Knebel, Milwaukee Brewers Mandatory Credit: Kamil Krzaczynski-USA TODAY Sports /
After playing the last five seasons with the Milwaukee Brewers, including one all star season in 2017, Corey Knebel was going to be non-tendered and then was traded.
After a few solid seasons with the Brewers in 2015 and 2016, Corey Knebel emerged as the Brewers closer in the 2017 season. His performance earned him an All-Star bid and he finished that season with 39 saves and a 1.78 ERA.
Knebel's 2018 season was very mixed. He initially got off to a rocky start and eventually missed substantial time with a hamstring injury. He did bounce back and was a dominant force in the Brewers bullpen that September and postseason.
Unfortunately, before the 2019 season officially began, Knebel underwent Tommy John surgery and missed the entire year. Knebel's first 'season' back after TJS was also very mixed. The first half of the season was rather rough to watch as Knebel struggled, but after a stint on the IL with a hamstring injury his pitching mechanics returned to form, his velocity increased, and he ended the year with a rather successful month of September.
Despite his promising end to the season, the Brewers were going to non-tender him at this year's deadline. But they didn't want to lose him for nothing, so they made a trade.
The Dodgers came calling at the last minute, not wanting to battle with other teams for Knebel in the free agent market and offered the Brewers a player to be named later or cash.
Given the short amount of time to put together a deal, it's no surprise they couldn't agree on a specific prospect to come back in return. By doing it this way, the Brewers likely have a list of prospects to choose from and can take some time to determine what they want in return for Knebel.
Knebel holds a lot of value as a reliever with closing experience and a high level of success. This PTBNL is not likely to be some run of the mill rookie ball pitcher that no one has heard of. This will likely be a prospect that will hold some value of his own.
This really is a sneaky move by Stearns and something that makes a lot of sense. Knebel was going to be non-tendered if this trade didn't come to fruition.
If Corey Knebel stays healthy in 2021 and is at his peak performance, he could easily outperform a salary of $5.125MM. But with the uniqueness of the 2020 season the Brewers unfortunately were not going to be able to keep him.
Corey Knebel being non tendered is certainly sad and disappointing for most Brewers fans.  If it wasn't for injury and a pandemic he likely returns a Brewers in 2021, but for now it is time to accept the reality that he will be playing for another team next season.