Brewers Possible Trade Partners: The Chicago White Sox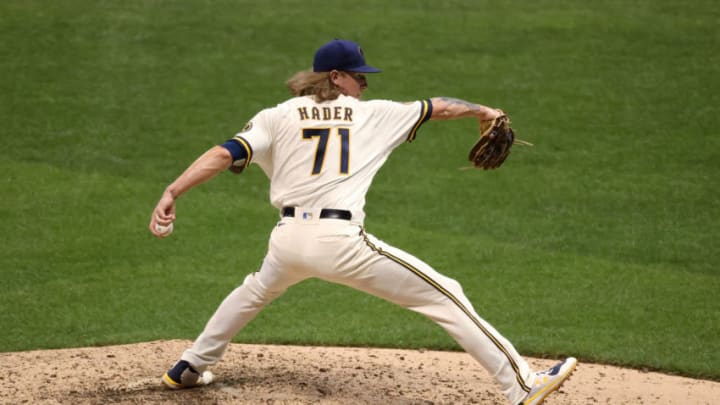 MILWAUKEE, WISCONSIN - AUGUST 24: Josh Hader #71 of the Milwaukee Brewers pitches in the eighth inning against the Cincinnati Reds at Miller Park on August 24, 2020 in Milwaukee, Wisconsin. (Photo by Dylan Buell/Getty Images) /
If the Milwaukee Brewers need a trade partner this offseason, could the Chicago White Sox be a fit?
With the non-tender deadline having come and gone, which saw the Brewers make a flurry of roster decisions, the club finds itself roughly four months away from Opening Day with plenty of room for improvement. With the limited payroll flexibility the team has, acquiring players via trade just might be the best way for Milwaukee to add to its potential for 2021.
That said, which team could be an ideal trade partner for the Brewers?
One organization that comes to mind is the Chicago White Sox. The SouthSiders, who are coming off of their first postseason appearance since 2008, seem committed to opening their championship contention window.
They play in a tough division and need to keep pace with the Minnesota Twins and Cleveland Indians, both of which have very high ceilings as well. Chicago has a plethora of young talent both at the major league level and in their farm system that could intrigue Milwaukee.
A Possible Brewers-White Sox Trade
Here is a hypothetical trade between Chicago and Milwaukee that could work for both sides.
White Sox receive: LHP Josh Hader
Brewers receive: 1B Andrew Vaughn, RHP Jonathan Stiever
With franchise cornerstones Yoan Moncada, Jose Abreu, and Luis Robert likely off limits for trade discussions, the Brewers would likely need to look towards the Sox's farm system for talent they could acquire for 2-time NL Reliever of the Year, Josh Hader.
There has been speculation suggesting that Milwaukee might benefit from a trade of Josh Hader while his value is as high as it is. Their bullpen is loaded with talent, with or without Hader, especially with 2020 rookie of the year Devin Williams, along with young flamethrowers Drew Rasmussen and Justin Topa, who showed much promise in 2020.
While it might be difficult to accept for Brewers fans to part with a player who has been so dominant over the past four seasons, for the right price it may be the right thing to do.
Andrew Vaughn, the former 3rd overall pick and current #1 prospect in the White Sox system, would be the center of the deal for the Brewers. He would fit in perfectly given Milwaukee's need for offensive production and long-term uncertainty at the first base position. He was a career .374 hitter in three collegiate seasons at UC-Berkeley, and in his only minor league season, he hit .278 with an .832 OPS, 6 home runs and 17 doubles in 55 games.
Despite his status as a top-tier prospect, he is still somewhat expendable for Chicago, due to the fact that reigning AL MVP, Jose Abreu, figures to hold down the first base position for a while yet.
Additionally, this deal makes sense for Chicago because there is a chance they could lose their closer, Alex Colome, to free agency. They still have some above average bullpen options- namely Aaron Bummer and Jace Fry– but if Colome were to leave, Hader could step in and take over the closer's role.
Jonathan Stiever started two games for the White Sox in 2020 down the stretch in particular, and they didn't go particularly well; but hey, that's only two games and he is still ranked as the 7th best prospect in Chicago's system.
Stiever is known for his fastball and curveball primarily, and while it is unclear how he would potentially be used in Milwaukee, the Brewers organization has proven their impressive ability to develop young pitchers.
These two players would be a nice centerpiece to get in return for Josh Hader, and I believe the core of this deal would be satisfying to both parties involved.
There are surely other suitors that Milwaukee could inquire with, such as the Angels or Dodgers, but given the White Sox's status as an up-and-coming contender in the American League, and their potential interest in bolstering their bullpen they could be the ideal trading partner for a Brewers team looking to add offense while maintaining their strong pitching staff.
The White Sox are facing an improving AL Central division and to set themselves apart, they'll need a big addition.