Brewers Rumors: LHP Josh Hader Likely To Stay Put?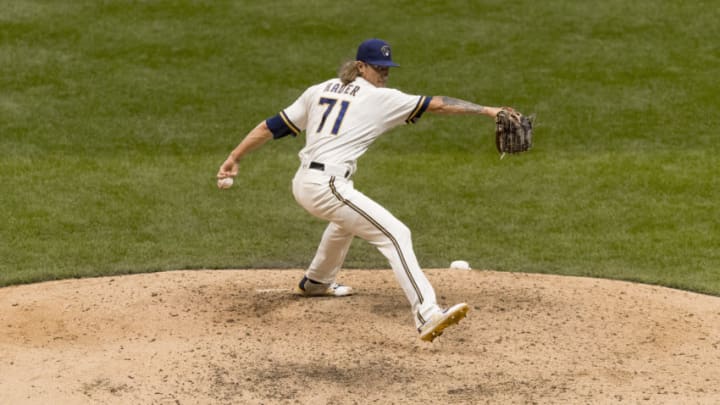 Sep 2, 2020; Milwaukee, Wisconsin, USA; Milwaukee Brewers pitcher Josh Hader (71) throws a pitch during the ninth inning against the Detroit Tigers at Miller Park. Mandatory Credit: Jeff Hanisch-USA TODAY Sports /
The Milwaukee Brewers have been listening on Josh Hader, but have they liked what they heard?
For about two years now, there's been chatter about Josh Hader being a trade candidate for the Brewers. He's getting more expensive and success at his position is extremely volatile.
Going into this offseason, trading Hader started to make more and more sense. After the shortened 2020 season without fans, the Brewers are going to have a tight payroll. Trading Hader could help clear some needed payroll space while boosting other areas of the roster.
As much sense as a Hader trade would make if the Brewers can get back the value they desire, it takes two to tango. There has to be another team willing to pay the price President of Baseball Operations David Stearns has set on him. It appears there isn't a team like that so far this offseason.
Stearns has clarified multiple times that they are listening on Josh Hader, just as they would listen on anybody. But the way Stearns talked about that situation leads one to believe that Hader is unlikely to be on the move this winter.
It's important to remember that Stearns always holds his cards close to the vest and if a trade was close or he was getting traction, he wouldn't go on MLB Network to say they had traction on a Hader trade. So perhaps his comments mean nothing. Yes, the Brewers are in no rush to trade Hader but that doesn't mean he won't end up getting dealt.
MLB Insider Robert Murray, who was on our Cold Brew Podcast this week, also doesn't believe a Hader trade is likely this winter.
Things can always change. Perhaps as the offseason goes on and a team misses out on their relief pitching targets, they might get desperate and pay the high price for Hader. It's not incredibly likely, but the door has not been slammed shut on a Hader trade.
Especially at this point in the offseason, there would be no reason for other teams to make the big offers for Hader. Liam Hendriks is still out there as a free agent. Blake Treinen is out there. Alex Colome, Archie Bradley, Brad Hand, Kirby Yates, and Trevor Rosenthal are all also still free agents.
With experienced closers like them still out on the market, why would a team pay extra for Hader?
The Brewers aren't going to complain about having Hader for another season. He had a strong 2020 and creates quite the 1-2 punch at the back end of the bullpen with Devin Williams. As of right now, it looks like he's staying put. Things can always change, but it's expected that he will stay in Milwaukee for the 2021 season right now.
Stearns has rightfully set the asking price high for Hader. With other options on the market available for less, other GMs are holding off on making big overtures to get Hader.