Brewers: 3 Brewers Who Could Hit Milestones this Season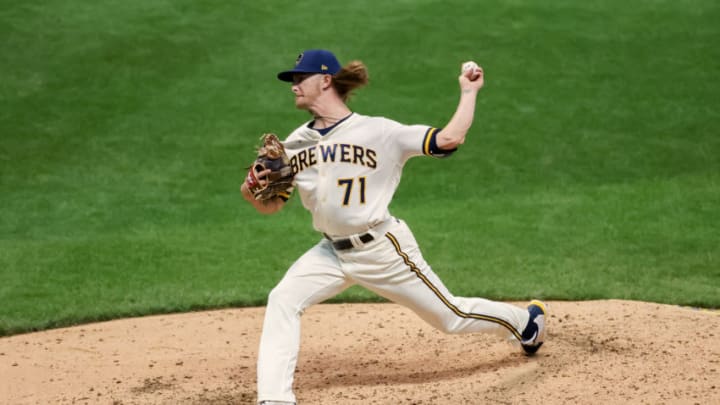 MILWAUKEE, WISCONSIN - SEPTEMBER 14: Josh Hader #71 of the Milwaukee Brewers pitches in the seventh inning against the St. Louis Cardinals during game one of a doubleheader at Miller Park on September 14, 2020 in Milwaukee, Wisconsin. (Photo by Dylan Buell/Getty Images) /
One of the best parts of baseball is the stats. They fill out the back of baseball cards so perfectly, and baseball has a fascination with round numbers.
While new metrics such as Exit Velocity, and Spin Rate are making their way to the back of cards, the more traditional stats still exist there, leading to fun milestone watches.
Here are several statistical milestones that could be reached in 2021.
Josh Hader – 100 Career Saves and 500 Career Strikeouts
The Bullpen has and will continue to be a place of strength for Milwaukee. Over the past few seasons, Josh Hader has been used as a fireman, coming in when needed to get out of sticky situations.
However the emergence of Devin Williams has changed that up a little.
Craig Counsell has announced the plan is for Josh Hader to be used more in a traditional closer's role, and pitching more in the 9th inning. We could still see Hader come in the 8th and have a multi-inning outing, but I would imagine the Brewers are going to be cautious in usage of Hader for the initial part of the season, as pitchers work on being stretched out.
Currently Hader has 62 career saves, and he recorded 37 back in 2019. If Hader is in fact going to be used in a more "traditional" closer role, it is quite plausible we could see him record 38 saves, which would be a career high, and put him at the 100 career mark.
If Hader reached this milestone100 career saves, he would be third all-time in franchise history in saves behind Dan Plesac and John Axford.
Another career milestone that Hader is within reach of is 500 career strikeouts. He currently has 380 career punchouts, and is a strikeout machine. If Hader continues to pitch to his career K/9 rate of 15.29 (which translates to just under 1.7 K/IP), it would take around 71 innings for him to hit that milestone.
In a normal year, that would seem to be an easy innings number for Hader to hit, but coming off the short season, Hader may see less than that.
Lorenzo Cain – 200 Career SBs and 10,000 Career Innings
Lorenzo Cain coming back in 2021 will be a huge boost to the team. His leadership, elite defense, and clubhouse presence were missed in 2020.
While Cain is a year older, he still is within reach of several fun milestones. Cain currently has 175 career stolen bases, meaning he is 25 away from 200. Cain is a speedster, and stole a career high 30 back in 2018, so 25 is not out of the question for him.
As he battles his nagging injuries, and gets regular days off, 25 may be towards the upper limit of what Cain could do, but he is a baserunning master.
Cain stealing 25 bases this season would give him 80 with the Brewers, placing him in 16th place all time.
Another milestone Cain is running up on that could happen this season is hitting 10,000 career innings played in the outfield.
Lorenzo Cain has spent 8,760.2 innings in the outfield in his career, meaning he could crack 10,000 with 1,240.1 innings. That comes to approximately 138 total 9 inning games this season. The total breakdown of playing time between the 4 outfielders the Brewers have is yet to be seen, but given Cain's age 138 full games may be a stretch.
In 2018, Cain appeared in 141 games but made 137 starts in center field, he appeared in 148 in 2019, making 133 starts in center. It is not out of the question that Lorenzo could reach 10,000 career innings this year, but given the way Craig Counsell likes to manage, with days off, and the nagging injuries, it could happen, but don't be surprised if this milestone has to wait until 2022.
Christian Yelich 200 Career Home Runs
Christian Yelich should be back to normal this year. After a rough 2020, Yelich has been looking like himself in Spring Training. Yelich returning to MVP form will be welcomed back into American Family Field. He currently sits at 151 career home runs, making him 49 short of a milestone number in 200.
American Family Field has been good to Yelich. He has hit 55 career home runs there, and a full season where he is swinging the bat well should add to those numbers. MLB has been messing with the ball, and it is supposed to be deadened, but we will not know for sure what the impact is until we see it in games.
49 Home Runs this season would give Christian 141 career home runs as a Brewer, 13th all time behind Rickie Weeks.
Hitting 49 home runs may seem like a stretch, but he hit 44 in 2019, and very well could have hit 50 had he not injured himself. Assuming Christian gets 550 at-bats this year, he would have to average a home run every 11.22 at-bats (about 1 every 3 games with a couple of 2 homer-games sprinkled in because he's Christian Freaking Yelich).
Since coming to the Brewers, Yelich has hit a home run every 13.72 at-bats. Hitting a home run every 11.22 at-bats is a lot, Giancarlo Stanton is the active career leader, hitting a homer every 13.88 at-bats, but he hit one every 11.1 ABs in 2019.
Replicating the 2019 magic may be tough to do, but through three years in Milwaukee he has shown time and time again he is capable of things that seem impossible.
Hopefully Yelich sends Bernie down his new slide a lot, en route to reaching 200 career home runs.
All of these milestones could happen, or they could not, but these provide a little extra thing to watch for as we get ready to enjoy 162 Brewers games this year.