Brewers: 3 potential Brewers Draft picks to watch at College World Series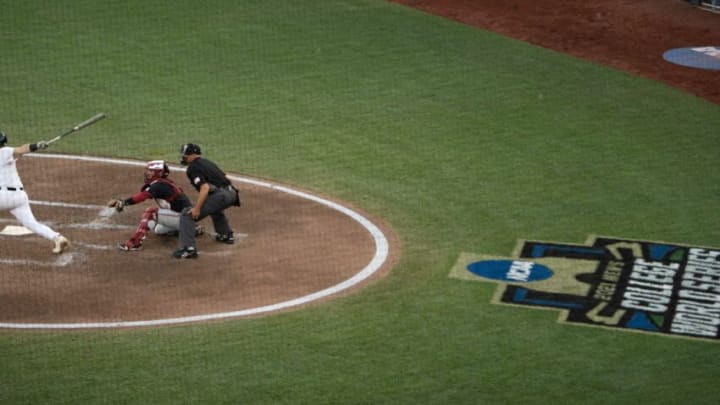 Vanderbilt first baseman Dominic Keegan (12) hits a two run home run in the bottom of the fourth inning against Stanford during game nine in the NCAA Men's College World Series at TD Ameritrade Park Wednesday, June 23, 2021 in Omaha, Neb.Nas Vandy Stanford 036 /
The College World Series is one of the great traditions in baseball and is always a ton of fun. It's also ongoing right now. Could the Milwaukee Brewers select one of the stars from the CWS this year?
Our Draft coverage has been picking up at Reviewing the Brew. But let's take a specific look at the College World Series.
Eight teams make it to Omaha, and already three of them (Arizona, Tennessee, and Stanford) have been eliminated. There are five remaining teams: Vanderbilt, Texas, Virginia, Mississippi State, and NC State.
Who are some Draft prospects on these College World Series teams that could become future Milwaukee Brewers?
1. Zack Gelof, 3B, Virginia
Hey, how about a corner infielder? The Brewers are quite thin at third base throughout the organization and adding an advanced college bat like Zack Gelof would make plenty of sense. Gelof isn't a first round talent though, more likely to go around the 2-4 round range.
This season, Gelof hit .313/.395/.488 with the Cavaliers, swatting nine home runs and stealing 12 bases.
In two games at the College World Series so far, Gelof is 6-for-8 with two doubles.
Gelof has a strong throwing arm and should be able to stick at third base. He also has some of best raw power of the college bats in this draft class, according to MLB Pipeline, who have Gelof ranked 96th on their Draft big board.
Gelof has also only struck out about 15% of the time this season, so with his ability to make contact and avoid Ks, he should hit for a decent batting average as a pro. There's plenty of power to tap into, and he's been a key piece of the lineup for Virginia. He's one to keep an eye on.
2. Will Bednar, RHP, Mississippi State
Could the Brewers grab another Mississippi State starting pitcher? With Brandon Woodruff as the Brewers staff ace and Ethan Small moving up to Triple-A, the Brewers have established a pipeline from Starkville to Milwaukee. Will Bednar could be next on that pipeline.
Bednar has had a strong season for the Bulldogs, posting a 3.26 ERA in 17 games, covering 80 IP. In those 80 innings, Bednar has struck out 128 batters and walked just 21.
He dominated the Texas Longhorns last Sunday, going six innings, allowing just one hit, one walk, and no runs while striking out 15 Longhorns. Bednar got 18 outs, and 15 of them were by the strikeout.
MLB Pipeline has Bednar ranked at 36 on their Draft big board, putting him in a position where the Brewers might take him with their Competitive Balance A pick, which is 33rd overall.
Bednar has a mid-upper 90s fastball with a nasty slider and a really good curveball. He also has a changeup, giving him a four pitch mix, which will allow him to remain a starter as a pro. His command has also been strong and he earns high marks for his intangibles, which is something the Brewers also value highly.
Going to the Mississippi State pitching well has worked out well twice before, perhaps they will go to the well one more time. When Bednar pitches next, keep an eye on him.
3. Tyler McDonough, INF/OF, NC State
If you recall from our Draft coverage last year, I was quite high on NC State's Tyler McDonough. McDonough didn't get drafted in the 5 round draft last year with a high signing bonus ask, so he returned to NC State and he's improved his stock this year.
Pipeline ranks him 110th on their Draft big board, and he's been climbing. McDonough has showcased increased power in 2021. After hitting just eight home runs in 315 ABs combined between his freshman and sophomore seasons, McDonough slugged 15 homers this year in 233 ABs.
McDonough's slash line of .339/.423/.631 gives him the highest OPS of his college career.
Oh, and he's also a switch hitter with enough versatility to play all over the diamond. He's mostly played outfield for NC State this year, but he also has infield experience. With McDonough's great speed and strong defense no matter where he plays, he has a floor of being a utility guy at the big league level with the chance to be a regular starter at one position if he continues to get on base like he has.
This is a part of what Pipeline had to say about McDonough:
"McDonough's quickness and instincts also translate into range in center field, where he's a solid defender. He has an average arm and may profile best in a super-utility role where he'd shuttle between all three outfield spots as well as second and third base as needed. Scouts love his makeup and compare his game to those of grinders Adam Eaton and Brock Holt."
Adding a guy with his makeup and intangibles combined with his skillset on the field make him a very attractive option come Draft day.
His added power this year makes him even more intriguing as a prospect, and the Brewers could look to take him in the top five rounds. He's been hitting in the 2 spot for NC State's lineup and is 3-for-10 with a double in two games in Omaha so far.
None of these guys might be first round pick options for the Brewers, but they're showcasing their skills on college baseball's biggest stage, and could end up becoming future Brewers prospects. When you're watching the CWS, keep an eye on everyone, but these three guys specifically.