Brewers GM Matt Arnold Pulls Name Out Of Mets GM Consideration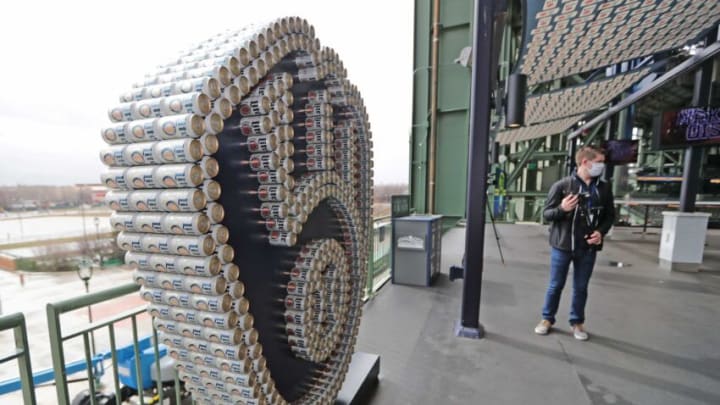 A Brewers glove logo, formed out of Miller Lite beer cans, is located in the Miller Lite Landing.Brewers Bernie 00590 /
Almost as quick as the speculation came, it was gone. Rumors surfaced on Tuesday that the Mets had Brewers GM Matt Arnold atop their list in their search for a new president of baseball operations. Now on Wednesday, Arnold has pulled his name out of consideration.
It's been a wild 24 hours with a lot of twists and turns, mostly from conflicting reports from beat writers in New York.
First, Mike Puma of the New York Post reported that the Mets had been talking with Matt Arnold and possibly even had a contract offer out. Then Andy Martino of SNY said they had not received permission yet.
Then there were reports that the Mets were still waiting on permission, and that perhaps a trade could be worked out where the Brewers receive some player compensation in exchange for Arnold. Then, reports surfaced that the Brewers had given permission for the Mets to speak to Arnold.
Less than an hour after reportedly receiving permission to talk to him, Brewers beat writers Adam McCalvy and Will Sammon reported that Arnold withdrew his name from consideration.
Andy Martino then piped in that the Mets were actually denied permission. But is that actually true?
Matt Arnold has withdrawn his name from consideration for the Mets POBO search and will stay as the Brewers GM.
Arnold is not the first executive to remove his name from consideration in this search. But this is one that really surprised a lot of people. Other candidates they went after weren't going to be getting promotions, so it was easier to decline. They were established names, while Arnold is still an up-and-comer.
The fact that Arnold dropped out of consideration should say a lot about the Mets current situation. It would be a promotion, a chance to run his own baseball operations department, with a big market team and access to a lot of funds to get the players he wants. The Mets believe they have such a desirable job that executives would be lining up for it if their employers allowed them to interview.
But the ones that do, almost immediately pull their names out of consideration. Why? Well, that's a question that Steve Cohen has to figure out and figure out quickly.
When it comes to the conflicting reports on how and why Matt Arnold won't be the Mets next president, I'd be more inclined to believe the reports from McCalvy and Sammon rather than Martino or anyone in New York.
It's likely the Mets are telling their beat writers they were denied permission to interview Arnold to save face from the fact that Arnold didn't want the job. Arnold not wanting a promotion to them looks bad for New York. Being denied permission deflects blame from them to other teams. The Brewers writers are more likely to have received Arnold's end of the story.
Which end of the story is more likely to be truthful? The one where a team desperate for a good executive missed on another target and is still searching, or the one where an executive was under no pressure to stay or go? Knowing the Mets history, it's far more likely they are trying to put out that they were denied than to admit Arnold turned them down.
The Mets tried to get both Brewers top executives in David Stearns and Matt Arnold. They failed both times and the Brewers get to avoid a brain drain.
While New York's search will continue, it will have to continue without anyone from the Brewers front office.