Brewers: Designated Hitter "Assumed" To Come To NL In 2022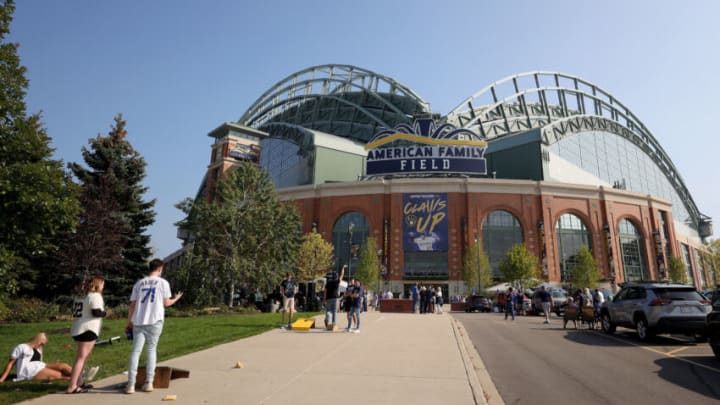 MILWAUKEE, WISCONSIN - OCTOBER 09: General view outside of American Family Field before the game 2 of the National League Division Series between the Atlanta Braves and Milwaukee Brewers at American Family Field on October 09, 2021 in Milwaukee, Wisconsin. (Photo by Stacy Revere/Getty Images) /
Few things appear to be certain when it comes to baseball right now. The lockout and CBA negotiations are ongoing and the offers going back and forth change all the time. Brewers Opening Day may be in danger.
One of the areas that may change the actual game on the field is the potential addition of a Universal DH, bringing the Designated Hitter position to the National League and essentially bringing an end to pitchers hitting.
According to Jon Heyman, that appears to be a certainty at this point.
While there may be some haggling over how much money is impacted by putting a DH spot on all 30 teams, both sides being in favor of that change pretty much locks in that the Universal DH will happen.
What does this news about the Universal DH mean for the Milwaukee Brewers?
The addition of the DH is going to be welcome news at One Brewers Way. Despite fans enjoying the memories of Brandon Woodruff going yard off Clayton Kershaw in 2018 as well as Adrian Houser and Eric Lauer hitting homers last year, this is great news for the Brewers.
It's pretty clear the Brewers need to improve their offense heading into 2022. They'll be banking on Christian Yelich and Keston Hiura to rebound, but still could use another productive bat. But where would they add it? The outfield is set, the infield is pretty well set, except for maybe first base, but they'll want to give Hiura and Rowdy Tellez opportunities.
But the addition of the DH gives David Stearns room to add another bat to the lineup and allows Craig Counsell more flexibility with his roster.
Instead of only eight spot in a nine-man lineup being hitters, now they can fill all nine spots with hitters, which is surely going to help the offense. The rare production those pitchers can provide at the plate is not going to outweigh the regular production that will come from having another hitter in that spot. Even a bad hitter will be better than a good hitting pitcher.
Plus, the Brewers have seen a lot of their top pitchers get hurt doing things on offense in recent years. 2017 Opening Day starter Junior Guerra pulled his hamstring running out a bunt on Opening Day that year. Chase Anderson strained his oblique on a swing and a miss later that summer. And in September that year, Jimmy Nelson destroyed his shoulder diving into first base and hasn't been able to recover since.
The foundation of this Brewers team is built around the starting rotation. Every time those guys take a swing or make contact, Counsell and Stearns hold their collective breaths. Have you watched Corbin Burnes run out a ground ball to first base? It's not pretty. He tripped over first base and faceplanted one time last year. He's the Cy Young winner, we don't need him to run to first base.
Adding the DH is a win-win for the Brewers. It allows them to reduce the risk of injury to their pitchers, which are the foundation of this team, and allows them another spot to sign or trade for a productive hitter and put him in the lineup. It could allow Keston Hiura to focus only on hitting, which could help him bounce back. It could allow Christian Yelich some time off in the field but still get his swings in and hit, hopefully at his 2018 and 2019 levels again.
Plus, Counsell doesn't have to worry about pulling his starters earlier than he'd like just to get a pinch hitter in there or keep them in and lose a chance to score runs.
Without the DH, adding another bat to this lineup would be tough to fit in. But with the DH's arrival, they now have room to add another hitter and promise them regular at-bats in the starting lineup.
Once the lockout does end and the DH is officially introduced to the NL on a permanent basis, Stearns and the Brewers front office will quickly jump into action to bring in a bat to help fill that spot and improve the offense.
The DH is presumed to be coming, but it's a few years too late for Jimmy Nelson and other pitchers who were injured not doing pitching things. For this Brewers offense, it'll help provide the boost they really need.