Khris Davis Could Be A Bounce Back Candidate At DH For The Brewers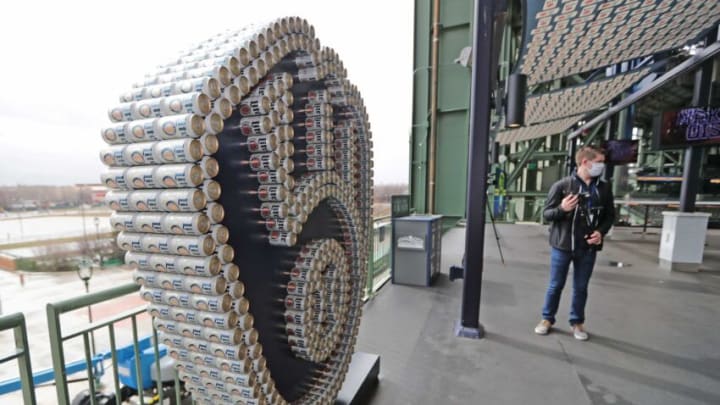 A Brewers glove logo, formed out of Miller Lite beer cans, is located in the Miller Lite Landing.Brewers Bernie 00590 /
Currently, the MLB Owners and MLBPA are negotiating terms for a new CBA. One topic of interest among fans, players, and owners is the concept of having the designated hitter in both the American and National Leagues.
Universal DH has been a long debated topic among baseball fans. However, the reality is that many believe that once a new CBA deal is made that the rule will be adopted. Recently, Jon Heyman provided clarification that this is still the assumption.
While the rule has not been officially accepted, it should not come as a surprise that it appears on track to be happening.  In fact, in preparation for this, previously we previewed three potential targets to fill the DH spot.
Today, we are going to take a closer look at one of those external players to see if they would be a good fit for the Brewers or not. I am referencing former outfielder Khris Davis.
Khris Davis was a Brewer from 2013-2015 before being traded to the Oakland Athletics prior to the start of the 2016 season. With the A's he went on to club 156 home runs in his first four seasons.  During that span, he led the league in home runs in 2018 while also collecting over 100 RBI's on three separate occasions.
For multiple seasons, Davis was a consistently good and reliable power hitter for the A's.  Unfortunately during an interleague game at PNC Park in May of 2019, he collided with the wall and was never the same player afterwards.  A disappointing 2020 season led to him being traded to the Rangers prior to the start of the 2021 season.
With the Rangers, Davis played in just 22 games and managed just two home runs. He eventually was released and signed a minor league deal with the Oakland A's. In the minors, he started to show glimpses of that power returning for he hit 10 home runs in 16 games. Unfortunately, once at the major league level he was unable to get things going again which led to him electing free agency at the end of the season.
If universal DH is adopted, would Khris Davis be a fit in Milwaukee?
Aside from having experience and familiarly hitting in American Family Fields, Davis would be a very affordable option. He likely would sign near the league minimum and at age 34 odds are that he would sign for one year. Should he play close to his 2016-2018 form, he could be a big asset. Although him reaching that form again is a longshot.
He has multiple 40+ home run seasons and potentially could help propel this offense to the next level if he can find his power stroke again. There are a lot of questions as to if he can return to his former level of play, but signing him would be a very low-risk, high-reward deal.
Davis would likely have to accept a minor league deal with an invite to camp to fight for a spot. The Brewers can't sign him expecting him to be their regular DH, they need to aim higher for that. If he plays well in spring training, maybe he could earn an opportunity, but Davis is past his prime and is looking for one more shot to prove he can hit at the big league level.
David Stearns has shown willingness to sign veteran players looking for a bounce back season before. Davis certainly fits that mold and the possibilities of what he could do is exciting to think about.