Milwaukee Brewers: Who benefits from Bobby Wahl's injury?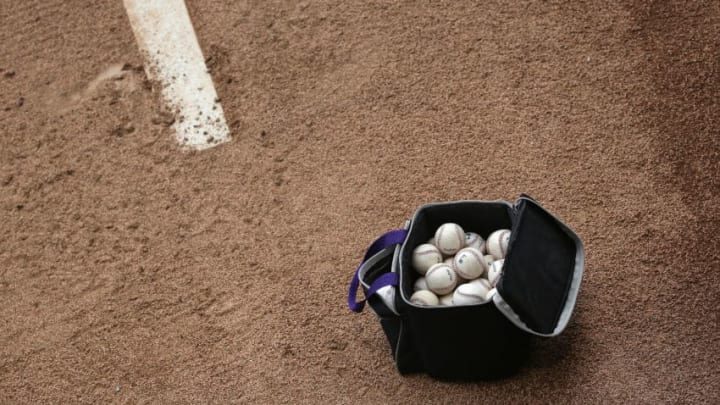 DENVER, CO - APRIL 25: A bag of baseballs sits on the mound in the bullpen as the Pittsburgh Pirates prepare to face the Colorado Rockies at Coors Field on April 25, 2016 in Denver, Colorado. (Photo by Doug Pensinger/Getty Images) /
Milwaukee Brewers reliever Bobby Wahl is likely out for the year with a torn right ACL. Which current relievers can take advantage during Spring Training?
It seems like just yesterday that Bobby Wahl was heading for an MRI for an injury that didn't look especially serious. That was yesterday. On Sunday, it was revealed that he has a torn right ACL that will require surgery and cost him most, if not all, of the 2019 season.
Heading into Spring Training, Wahl was a potential breakout candidate given his ability and the change of scenery from New York. It looks like someone else will have to step up and claim one of the final spots in the Milwaukee Brewers bullpen.
Was Wahl assured of a roster spot?
No, but the same could be said for about a dozen pitchers in the Milwaukee Brewers organization this year. The Brewers have an incredibly deep pitching staff, and Wahl was among the 'options', not the favorites.
Who will step up?
Wahl's misfortune is an opportunity for names like Jay Jackson, Adrian Houser, and Jake Petricka. Junior Guerra would need a disastrous Spring to end up back in Triple-A. An opportunity for anyone of the aforementioned trio is a lot more realistic with Wahl out of the picture.
Aaron Wilkerson has already racked up 10 strikeouts in only 5 1/3 innings of work, but he also carries an 8.44 ERA. Unless he's working on a new pitch or key aspect of his delivery, he's unlikely to make the 25-man roster with an ERA that high.
Angel Perdomo is in camp on a Minor League contract, but he's looked really good in his first three outings. Perdomo hasn't been scored upon in three appearances this Spring. He's also struck out seven while allowing only two walks.
Wahl's injury clearly wasn't how he wanted to start his time with the Milwaukee Brewers. Just by the fact that Brewers GM David Stearns traded for him indicates how highly he's thought of. Wahl is a solid bet to bounce back from this even if it has to be in 2020 instead of 2019.