Milwaukee Brewers: 2019 Team Award Winner Predictions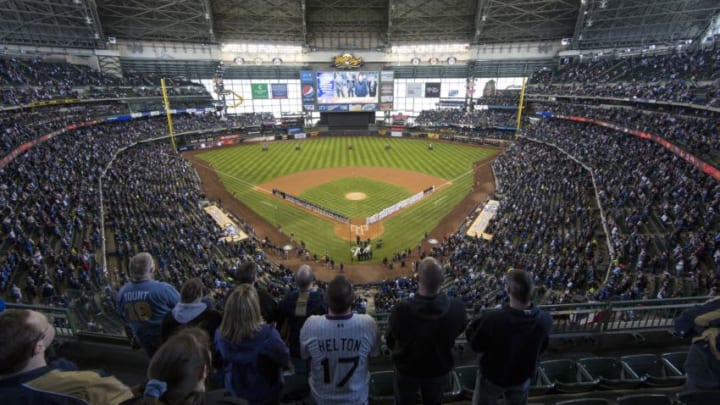 MILWAUKEE, WI - APRIL 1: General view of the Colorado Rockies and Milwaukee Brewers line the base lines during the National Anthem on opening day at Miller Park on April 1, 2013 in Milwaukee, Wisconsin. (Photo by Tom Lynn/Getty Images) /
With the Milwaukee Brewers 2019 season beginning, here are a few predictions for this year's team award winners.
Who from the Milwaukee Brewers is going to step up in 2019? We have a few obvious choices, and a few who might've flown under the radar this off season. Our predictions for the Brewers 2019 award winners are as follows…
Player of the Year – Christian Yelich
There is no question that he is the best player on the team and Christian Yelich is still in his prime. His swing and base running are nearly flawless, he plays in a left handed hitter friendly ballpark, and is solid defensively.  Barring injury, expect big numbers again this year.
Cy Young Award- Josh Hader
As much as I would like a pitcher like Freddy Peralta, Corbin Burnes, or Brandon Woodruff to win this, Josh Hader is just too good not to win this award.  He can pitch in the setup or closer role, can go multiple innings and has unhittable stuff.
Top Rookie – Zack Brown
Keston Huira is the Milwaukee Brewers' top prospect, but he may not get a lot of opportunities with the team this year. Zack Brown was the Brewers minor league and Southern league pitcher of the year last season.  He posted a 1.50 ERA in 6 1/3 innings this spring, and Brewers manager Craig Counsell has already indicated that Brown will most likely make his debut in 2019.
Gold Glove – Lorenzo Cain
Lorenzo Cain is on the wrong side of 30 years old, but shows no signs of slowing down defensively.  Cain covers center field as well as anyone in baseball and there is no reason to believe he can't repeat his stellar 2018 defensive performance again this year.
Mr. Unexpected (Hitter) – Ben Gamel
Ryan Braun will need days off and will most likely hit the disabled list on at least a couple of occasions, so Ben Gamel should get to see a decent amount of game action. He is the primary backup at all three outfield positions, has shown he can hit in the majors and is only 27 years old.  Gamel is also left handed in a left handed friendly ballpark which could increase his low home run totals.
Mr. Unexpected (Pitcher) – Alex Claudio
Alex Claudio was the Texas Rangers Pitcher of the Year in 2017, has some pretty nasty stuff and even has closing experience (11 saves in 2017). With Corey Knebel and Jeremy Jeffress out to start the year, the Brewers will need Claudio to solidify the bullpen, and I expect him to do just that.  If Knebel is out for a significant period of time, he may end up being the closer.
Mr. Underappreciated – Hernan Perez
There is no question that Jhoulys Chacin was Mr. Underappreciated last year, but after his performance in 2018 that will probably not be the case this year. Hernan Perez, on the other hand, continues to quietly offer the Brewers a quality bench option in both the infield and outfield. I don't think we appreciate how nice it is to have a player come off the bench who can hit double digit home runs and steal double digit bases.
If the Milwaukee Brewers are going to make it past the NLCS, they're going to need contributions from their entire roster. However, these seven players are key to success in Milwaukee, and could end up with hardware at the end of the year.