Milwaukee Brewers: Is Aaron Ashby starting to break out?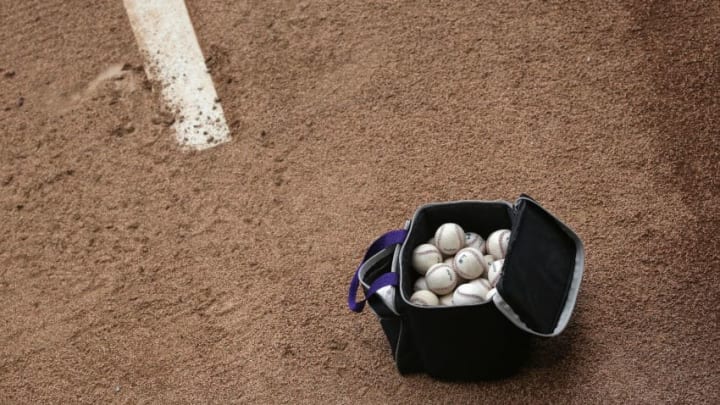 DENVER, CO - APRIL 25: A bag of baseballs sits on the mound in the bullpen as the Pittsburgh Pirates prepare to face the Colorado Rockies at Coors Field on April 25, 2016 in Denver, Colorado. (Photo by Doug Pensinger/Getty Images) /
Aaron Ashby was drafted by the Milwaukee Brewers in the fourth round of last year's amateur draft. This year? He's already been promoted from Single-A to High-A, and could go even higher. Is this the start of a break out?
Milwaukee Brewers prospect Aaron Ashby was a lot more unique before the 2019 amateur draft than he was after. Coming into the 2019 season, Ashby was one of the few lefties in the Brewers organization. However, the team stocked up on lefties in this year's draft. Ashby is still very special, but it's for his on-field performance, not his handedness.
How did Ashby do in Single-A?
Ashby spent made 10 starts and one relief appearance for the Single-A Wisconsin TimberRattlers. He managed a 3.54 ERA in 61 innings of work. He also struck out 80, walked 28, and was tagged for five homers. He usually threw 80-to-90 pitches in most starts, but was allowed to toss 127 in eight innings on April 17th.
Ashby did well enough in Single-A to earn a promotion to High-A.
Has Ashby made a start in High-A?
Yes! He made his debut with the Milwaukee Brewers High-A affiliate on June 13th. He worked seven innings, and only allowed one hit. He also struck out eight, and only threw 92 pitches with 61 going for strikes.
What's next for Ashby?
Unless Ashby shreds Carolina League, he's probably going to stay in High-A for the rest of the 2019 season. He's still only 21 years old, but there's an excellent chance that he starts 2020 in Double-A…assuming he continues to impress at High-A.
Zack Brown is already at Triple-A, and Trey Supak is getting the headlines this year, but it looks like Ashby is the top pitching prospect in the Milwaukee Brewers organization. He still has a long way to go, but his profile stood out on draft day, and it still stands out today. He has a live fastball that sits in the low 90s, but his curveball was one of the best in the 2018 draft, and his change up is more advanced than most 21-year olds who haven't pitched higher than High-A.
The Milwaukee Brewers have had a lot of success with drafting pitchers in the 4-to-10 round range in recent years, and Ashby looks primed to be their next success story.