Brewers Rumors: Padres Among Teams To Check In On Josh Hader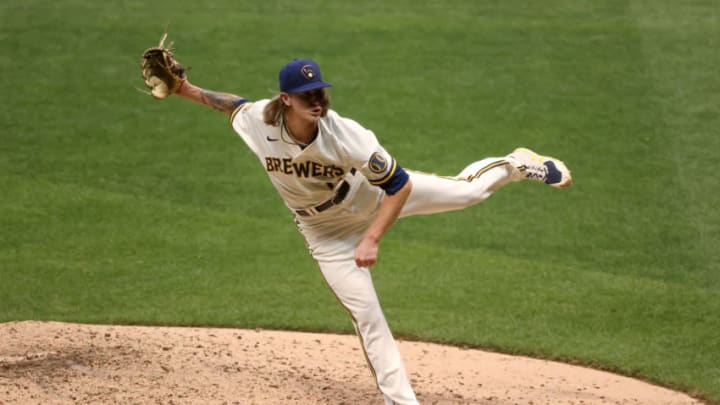 MILWAUKEE, WISCONSIN - AUGUST 24: Josh Hader #71 of the Milwaukee Brewers pitches in the eighth inning against the Cincinnati Reds at Miller Park on August 24, 2020 in Milwaukee, Wisconsin. (Photo by Dylan Buell/Getty Images) /
While the Brewers aren't selling Josh Hader, they're listening, and the Padres are one team that's talking.
It was only a matter of time before we saw some Brewers rumors connecting other teams to the pursuit of Josh Hader. The other day, reports surfaced that the Brewers were listening on Hader and now we know of at least one team that's interested.
The San Diego Padres, according to Robert Murray, are one confirmed team to be in the Josh Hader sweepstakes. They're also one of the few teams that has the prospect capital necessary to pay the "bananas" asking price the Brewers have on him.
The Padres are having a strong season in 2020 behind the breakout stardom of Fernando Tatis, Jr and their rebuild is finally complete. They're ready for contention for several years now. That means they're ready to be buyers at the deadline for once. They could go big and go for Josh Hader to solidify their bullpen.
Brewers Rumors: The Padres And Josh Hader
Brewers GM David Stearns has a high price tag on Hader that's reportedly even more than what the Yankees got for Aroldis Chapman in 2016, since Hader still has 3.5 seasons of team control remaining and Chapman was a rental. Keep in mind, the Yankees got Gleyber Torres, Adam Warren, Billy McKinney, and Rashad Crawford for Chapman.
Finding a better haul than that is going to be difficult, but the Padres are one of the few teams that have that kind of talent to include in a deal. Whether or not they'll be willing to include them is the key.
The Padres have six prospects that are in MLB Pipeline's Top 100 list, including LHP MacKenzie Gore, who sits in the Top 5 on Pipeline's list and was the No. 3 overall pick in 2017. Gore has all the makings of a left-handed ace and, while he would be awesome to get in return, the Padres are likely unwilling to part with him.
Also atop the Padres farm system are SS CJ Abrams, RHP Luis Patino, C Luis Campusano, OF Taylor Trammell, and OF Robert Hassell. Hassell was just drafted this year, so he is also unlikely to be included in a deal.
Any of those other top prospects from the Padres system could be targets for the Brewers in a Hader return. Patino has just been called up for his big league debut recently, so the Padres may not be keen on parting with him.
Some other possible prospect targets in a Josh Hader trade might be LHPs Adrian Morejon, Ryan Weathers, and Joey Cantillo. Since the Brewers would be giving up a stud LHP with Hader, getting at least one LHP in return, especially given the bevy of LHP prospects in the Padres system, makes a lot of sense from the Crew's perspective.
As for what a final Hader trade package could look like, I'm not even going to bother to hazard a guess. The Brewers will ask for a huge haul and the Padres are probably best equipped to pay that price.
If the Padres are determined to get a deal done, it can happen. The Brewers' struggles over the first half of the season may convince the Brewers now is the time to make the trade. Stay tuned for more Brewers rumors.