Brewers: Ranking The Top 5 Potential Suitors For A Josh Hader Trade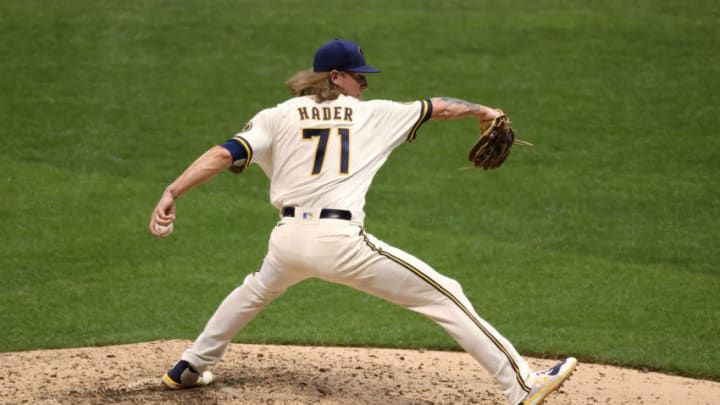 MILWAUKEE, WISCONSIN - AUGUST 24: Josh Hader #71 of the Milwaukee Brewers pitches in the eighth inning against the Cincinnati Reds at Miller Park on August 24, 2020 in Milwaukee, Wisconsin. (Photo by Dylan Buell/Getty Images) /
MILWAUKEE, WISCONSIN – SEPTEMBER 14: Josh Hader #71 of the Milwaukee Brewers pitches in the seventh inning against the St. Louis Cardinals during game one of a doubleheader at Miller Park on September 14, 2020 in Milwaukee, Wisconsin. (Photo by Dylan Buell/Getty Images) /
1. San Diego Padres
The Padres were extremely interested in Josh Hader back in August. Their contention window has finally opened and they are wanting to jump through that window. They went essentially all out during the Trade Deadline in making the additions necessary.
They wanted a reliever to finish out that bullpen, and they came the closest to acquiring Hader this August. But the price at the time for Hader was still a little too expensive, and they went with Trevor Rosenthal instead. Now Rosenthal is a free agent and they'll still need help in the back end of that bullpen.
For the Brewers, there should be a lot of intriguing options to choose from in the Padres system. There are a lot of exciting pitching prospects in San Diego that won't have a job on the big league team in the near future because there are so many talented players ahead of them.
The Padres farm system is one of the best in baseball, led by southpaw MacKenzie Gore. Gore isn't going to be available in a Hader trade, but there are other options to choose from, including Luis Patino, Ryan Weathers, and Cole Wilcox. Those are just the pitchers.
After pushing all their chips to the middle of the table this season, the Padres also fell short of their goal of reaching the World Series. The urgency they displayed in 2020 is not going to go away heading into 2021. In fact, it's likely to grow stronger.
With the need still present and a whole offseason to look at players and work out a deal, the Padres remain a contender in the Hader sweepstakes and find themselves in perhaps the strongest position of any team to make the deal for him.
The Brewers will demand a haul for Hader and even though the price was too high for the Padres in August, things are different in the offseason. For starters, the Brewers were in a playoff race of their own at that time and trading away Hader without getting at least one immediate big league piece back would be counterproductive to the Brewers own 2020 goals.
In the offseason, trades between contenders are more commonplace and more easily made than during the season.
With a strong system, a desire to make a big splash, and the ability for both teams to fill needs, the Padres find themselves in the best position to land Josh Hader this winter.
There's no guarantee that Hader will be traded this winter, but if he does, it'll likely be to one of these five teams.