Brewers: Time To Ask Again, To the Rotation or Bullpen for Freddy Peralta?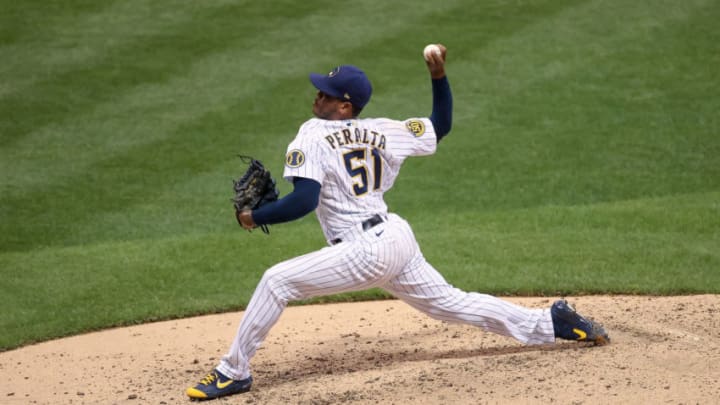 MILWAUKEE, WISCONSIN - AUGUST 27: Freddy Peralta #51 of the Milwaukee Brewers pitches in the fifth inning against the Cincinnati Reds during game two of a doubleheader at Miller Park on August 27, 2020 in Milwaukee, Wisconsin. Several sporting leagues across the nation are resuming their schedules after player walkouts done in protest over the shooting of Jacob Blake by Kenosha, Wisconsin police. (Photo by Dylan Buell/Getty Images) /
It has started to become a yearly question for Brewers fans at this point. In what part of the pitching staff should right-handed pitcher Freddy Peralta start the upcoming season?
Peralta's Milwaukee debut back in 2018 was one of the more exciting ones in recent memory. The righty dazzled in a Mother's Day road start against the Rockies, giving up just a hit and two walks while striking out 13 of the 21 batters he faced en route to a 7-3 Brewers victory.
Peralta would start 13 of his final 15 games that season with mixed results along the way. In the end, his rookie season would end with a 4.25 ERA, 1.136 WHIP, 4.6 walks per nine innings and 11.0 strikeouts per nine.
In 2019, the Brewers looked to continue with Peralta in the rotation as part of a youth movement among their starters. An 8.31 ERA and seven homers given up across 21 2/3 innings over five games ended up causing the team to re-evaluate.
Peralta was moved to the bullpen (outside of one spot start) after that and the move generally served him well. In 31 games as a reliever that year, he had an ERA of 4.01 and a 1.338 WHIP while raising his K/9 up to 12.59 as a reliever.
The following offseason, the Brewers committed long-term to Peralta, signing him to a five-year contract extension. When that happened, it was mentioned by the team that the ultimate goal for Peralta was to have him in the rotation.
Though he did get one start in 2020 – a three-inning, four-run outing – the rest of his work, once again, came as a reliever. It resulted in his best season to date as he set career best marks in ERA (3.99), K/9 (14.4), BB/9 (3.7), and HR/9 (0.6).
Now, as 2021 spring training is in full swing, it's worth asking once again: should Freddy Peralta start the season for the Brewers in the rotation or the bullpen?
Last year, the Brewers' pitching staff was very much the strength of the team, both in terms of starters and relievers. That should shape up to be the case once again in 2021 with a majority of the key contributors from last year returning for the upcoming season.
By that logic, it would make sense to keep Peralta as a member of the team's bullpen. His performance as a reliever made him one of the top few arms out of the 'pen and there are reasons to be excited for his ability to thrive in the environment again.
But there are other reasons to think that Peralta could be ready to take that step forward and be a successful member of the rotation, starting with a slider he began introducing a slider to his repertoire, a move that had us evaluating his starter potential going into 2020.
Peralta had his most recent spring training outing on Thursday, entering in relief of Josh Lindblom. His slider was giving batters fits and, mixed with his fastball and curve, resulted in him giving up a pair of hits and a walk over 2 2/3 scoreless innings while striking out 7 of the 12 batters he faced.
Later in an interview during the game's broadcast, Peralta also referenced a changeup that he has been working on. That exactly what can lead to the type of pitch mix featured by an effective starter, and manager Craig Counsell apparently seems to be leaning that direction as well.
With four rotation spots likely spoken for by Corbin Burnes, Brandon Woodruff, Brett Anderson, and Lindblom, that would leave Peralta fighting for the final spot. With Eric Lauer currently struggling his way through spring training, that would leave Adrian Houser as his primary competition.
Houser has been fine so far in spring training (one earned run in 2 2/3 innings), but struggled as a starter in 2020. He was solid as a reliever in 2019, though, which is why we gave Peralta the edge for the final rotation spot in our perfect rotation piece this past winter.
At this point, Peralta could probably be effective no matter what role the team puts him in. It seems that role is most likely to be as a starter according to the skipper, but whenever he pitches, he's going to give the Brewers a darn good chance to pull out a win.